Because of a week-long work trip, I wasn't able to post this episode last Sunday. Never fear though, for another Halloweird! October episode is coming tomorrow evening!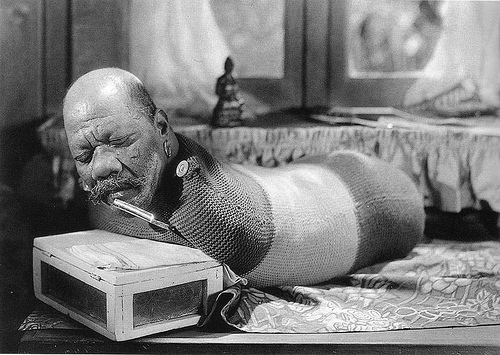 "For the love of beauty is a deep-seated urge which dates back to the beginning of civilization" — Freaks opening disclaimer
For episode 36, we created an improvised score to Tod Browning's 1932 horror film Freaks. The episode stars Ken Soper on Moog synthesizers; Tommy Stangroom on percussion and xylophone; JJ Jones on voice and various toys/chimes; Lawrence Crow on Theremin, Casio SK1, and various toys; Cody Bottoms on laptop, keyboards, and Korg sample pad, and Craig Schenker on saxophone. There are quite a few golden moments in our Freaks soundtrack, and I encourage you to sync the soundtack to the film. Be sure to mute the tv and turn the subtitles on! Syncing instructions in the podcast intro.
We recorded this improv on Thursday, October 7th. Directly after, we recorded an "80's synth pop" soundtrack to a beloved horror classic. Find out what that film is when we release podcast 37 tomorrow night.
Halloweird October!
Podcast: Play in new window | Download (Duration: 1:03:38 — 101.9MB)