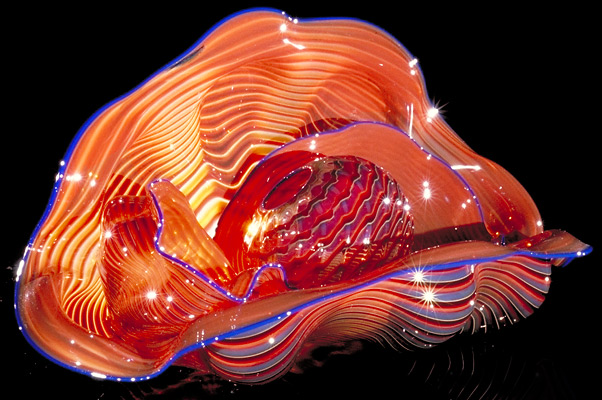 A few years ago, I helped my parents move out of my boyhood home.  The attic was our go-to destination for everything we no longer needed but for some reason wanted to keep — outgrown Masters of the Universe toys, mysterious old files of which no one knew the contents, well-stashed 70's Playboys, and everything in between.  While in the attic sorting through what should be moved and what should be thrown away, I found a hand-colored drawing of what I wanted to be when I grew up.  The note was signed, "Tony age 7."  The predictable occupations were there: astronaut, fireman, artist, lion tamer.  Also present was a less familiar job.
I wanted to be a glass-blower.
I remember being fascinated by glass-blowers at parks and fairs who would make unicorns and fairies while we watched.  I couldn't put it into words at the time, but there was something poetic about an art form that wrestled with the extra dimension of time.  Unlike other sculpting mediums, you only have seconds to manipulate glass before you have to dip it back into the flame.  Certain techniques will ruin the piece if not performed perfectly on the first attempt.  Glass-makers have to finesse time just like they finesse pressure, precision, and concept.  Just last year, I finally got to take a one-on-one glass-making course with Nashville artist Lewis Cage; and my appreciation grew with my frustration of the medium's difficulty.  (If you're even mildly interested, I highly recommend you take a class with him.)
If there were a living superstar in glass art, it would be Dale Chihuly, famous for his delicate, flowing, often-abstract glass forms.  He even lost an eye to glass — more specifically the glass windshield of his car in a head-on collision.
Chihuly's work is the subject of a staggering cross-exhibition spanning the Frist Center for the Visual Arts, The Nashville Symphony Orchestra, and Cheekwood.  I have never been more excited about an art event in Nashville.  I've only seen one piece of Chihuly's work in real life — that being the enormous FIORI DI COMO hanging in the lobby of the Bellagio, Las Vegas.  I was a teenager at the time and had no idea who Chihuly was; but I vividly remember being spellbound, unable to take my eyes off the ceiling.
Works of this caliber rarely come to Nashville, and you really need to go out of your way to see these breathtaking pieces.
Nashville sound artist Aaron Hoke Doenges will be performing an original work in response to Chihuly's work Friday, May 21st at 6pm and again at 7pm.  I interview Aaron about the Chihuly performance, his SoundCrawl: Nashville project, and the state of music in Music City in the second half of this article.