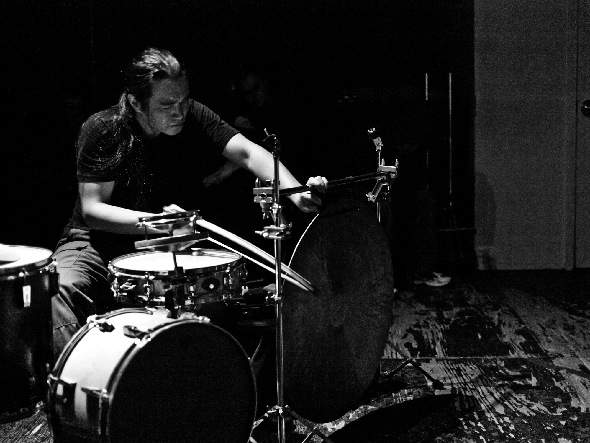 Experimental percussionist TATSUYA NAKATANI is performing at the Downtown Presbyterian Church this Friday at 8pm. I saw Tatsuya perform at Zeitgeist Gallery last year, and he took my breath away. (Check out my recording of that performance on T.I. podcast 43: Pulse.) A Nakatani concert is a transformative experience, which can only be augmented by the DPR's amazing acoustics.
This show is part of a series of DPC concerts organized by Brady Sharp, David Maddox, and Chris Davis. Of Nakatani, the Facebook event page says,
He has created his own instrumentation, effectively inventing many instruments and extended techniques. He utilizes drumset, bowed gongs, cymbals, singing bowls, metal objects, bells, and various sticks and bows to create an intense, organic music that defies category or genre. His music is based in improvised/ experimental music, jazz, free jazz, rock, and noise, yet retains the sense of space and beauty found in traditional Japanese folk music.
Also performing is Nashville's KIRBY SHELSTAD — percussionist, electronic music pioneer, and studio player who has worked with Leon Russell, Bela Fleck, Charley Rich, and more.
Concert starts at 8pm. There is a $6-$10 suggested donation for the performers. No one wishing to see the performance will be turned away for lack of funds.
This is also a great time to introduce Voight-Kampff Music, Brady Sharp's new experimental music blog, which features a killer concert calendar. Check out the Voight-Kampff write-up of the Nakatani show here.