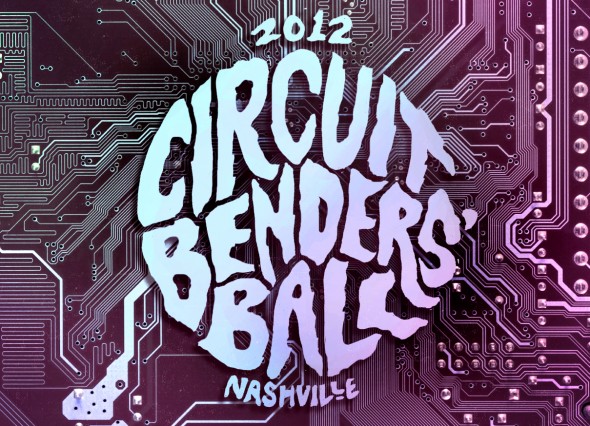 I'm honored to present the lineup for the 2012 Circuit Benders' Ball Nashville, taking place September 29th at Brick Factory Nashville! Workshops at 10am, music at 8pm.
2012 Performers:
Hadals – Nashville / Montgomery, AL
Workshops:
Chip to be Square: Build Your Own Synth w/ Josh Gumiela. 10am – 1pm
Intro to Circuit Bending w/ Roth Mobot. 2pm-5pm
Build a Buckawatt Bent Boost Kit w/ Zach Adams. 5:30pm-7pm
Visual artists: Lineup coming soon!
Our featured guests this year are the Chicago, Illinois circuit bending duo Roth Mobot (Patrick McCarthy, Tommy Stephenson).  They are, in my opinion, the artists most likely to make circuit bending a household term. In addition to creating brilliant circuit bent instruments and putting on phenomenal live shows, Roth Mobot conduct educational workshops in schools, hackerspaces, museums, and other community spaces. Education and empowerment through hands-on learning are incredibly important to them. Hear what Patrick McCarthy has to say on this subject in the opening to the Experimental Garage Sale Theatre Intangible podcast.
We'll be launching our Kickstarter campaign tomorrow in an effort to raise funds for band compensation, travelling expenses, and set decoration. Watch this space for that announcement!
We're partnering with The Skillery to sell workshop tickets. Workshops are limited to 15 people per workshop and will be sold in advance. I'll let you know as soon as tickets become available.
Check out our video promo: