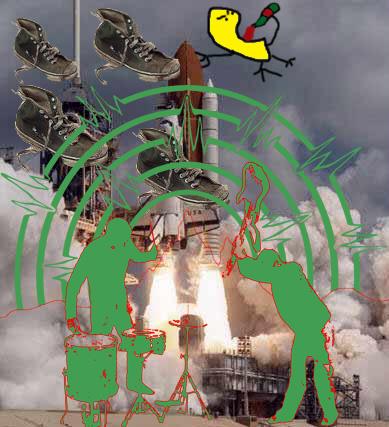 Baltimore/Nashville city-straddling experimental rock improv conglomerate New Pangaea join us in the studio for a pretty dynamite improv showcase.  Drummer Tommy Stangroom has previously appeared on the episode Valley Mountain Plateau and plays with Chris Murray's Square People offshoot Square People Jazz Maturity.  This is guitarist/singer/etc Nathan Blanchard's first time on the show.  I knew they were right for the show as soon as they pulled out circuit-bent keyboards, hand-made effects pedals, and stacks of day-glo-painted amps.
For the recording, I set up five mics — one mic on each amp and one above the drums.  I mixed live through my Mackie 8-Channel mixer and sent the signal through an Aural Exciter (a first for a T.I. improv), Art tube mic-pre's/compressors, and finally into my trusty Marantz digital field recorder.  This is the first time in Theater Intangible history where I haven't had to do any post-processing to the recording (and probably the last time).  No eq, no additional compression. . . it sounded perfect as is.  Hope you enjoy.
I'm currently in Atlanta for Atlanta Skepticamp.  Anything I should do before I leave?
Podcast: Play in new window | Download (Duration: 52:00 — 83.4MB)