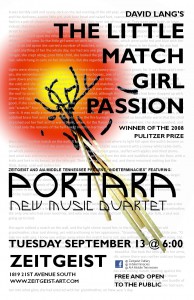 The PORTARA NEW MUSIC QUARTET perform DAVID LANG's Pulitzer Prize winning composition The Little Match Girl Passion live at Zeitgeist Gallery. The performance was the fourth installment of Zeitgeist's 2011 INDETERMINACIES series. The moderator is JOHN PITCHER. The performers are MONICA COOMBS (alto), SHREYAS PATEL (bass), LEA MAITLEN (soprano), and NATHAN RODRIGUEZ (tenor). The excellent local blog NuVoid wrote up a nice review of the show.
Special thanks to Zeitgeist, Portara, John Pitcher, Lesley Beeman, Lain York, and the audience. You can check out more pictures from the performance on the Facebook Indeterminacies page.
In partnership with Zeitgeist Gallery, Theatre Intangible is releasing all of the Indeterminacies shows as special podcasts. Check out Volume 1 STAN LINK, Volume 2 MARK SNYDER, and Volume 3 MARK VOLKER. Coming soon: Volume 5 ANDREW DEWAR and Volume 6 JOHN LATARTARA.
Earlier this year, Theatre Intangible interviewed Zeitgeist Gallery about the Indeterminacies series, experimental art, how they book shows, and more. Read the interview here.
If you like the show, tell a friend or write us a review in iTunes.
Podcast: Play in new window | Download (Duration: 46:48 — 75.1MB)