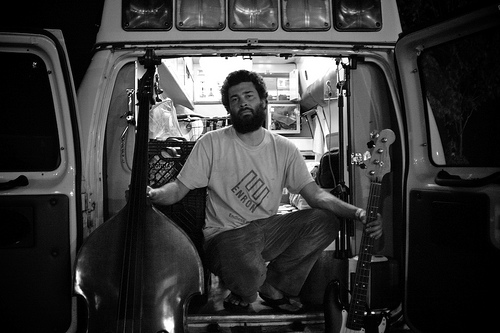 With the loss of Betty's Grill, Open Lot's warehouse space, and the soon-to-shutter Little Hamilton all in a year and a half, Nashville has been dealt a serious blow to its experimental and noise music venues. That's a damn shame. But things are beginning to look up. Dinos in East Nashville has stepped up to the plate with
plenty of upcoming shows
(booked by LESLIE KEFFER and others). (Go see
NOISE NOMADS, LAZY MAGNET, UNICORN HARD-ON, and HOBBLEDIONS
Thursday, January 26th!) The Springwater and The End continue their long tradition of booking interesting music.
BRICK FACTORY
, the new Cummins Station creative space, may be the next shining hope. While not technically a venue, the founders have pledged to occasionally host music and art shows. I wrote about the opening reception taking place on February 4th after the Art Crawl.
Full disclosure: I helped put together this show. Come for the music, and stay to scope out the new space. Perhaps it's an ideal location for your next show.
Doors at 7, music at 8. $5 entry. Drink tickets available for purchase.
Enter at Cummins Station street level and follow the signs.
Brick Factory Nashville @ Cummins Station
209 10th Ave S Suite 126, Nashville, TN 37203