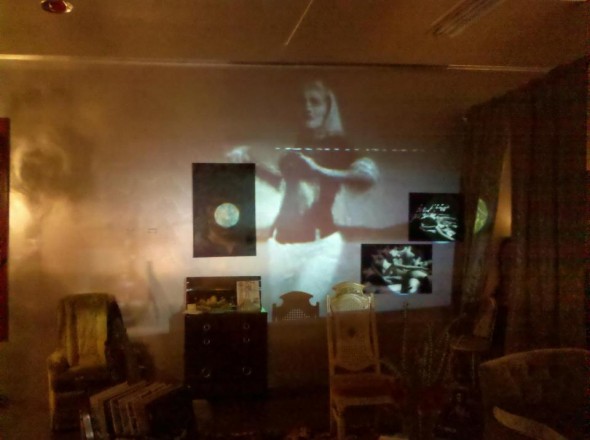 Local artist Mike Kluge continues an experimental media series at Boheme Collectif on Friday, March 1st at 9pm. I haven't been able to attend an event yet (and I won't be able to attend this one because I'm out of town), but Kluge continues to book some of the most talented experimental artists in Nashville. The previous event featured Soundcrawl co-founder Kyle Baker doing a live looping set.
The March 1st event features Circuit Benders' Ball alumni Andrew Morrill on circuit bent toys and Josh Gumiela with a new sound installation. Other artists on the bill include Crissy Crater, Amber Duarte, Russ White on 4D mapping and color organ, and Hank Pruett on the intriguing-sounding "Hallucination Box."
Josh Gumiela sent me a brief description of his installation, and it sounds amazing:
Water slowly drips from the ceiling and falls into an old metal pan (think dilapidated house with a leaky roof). The sound of each droplet hitting the pan is scattered into rhythmic echoes of the initial event. As more and more droplets are collected–no two events sound exactly alike–the sound gradually crescendos to a cacophonous cadence representing the inexorable march of decay.
In addition to sound art, Future Night also features live music, visuals, and more. The full schedule is below. More info on the Facebook event page.
Future Night @ Boheme Collectif
919 Gallatin Ave., Suite 8, Nashville, Tennessee 37206
9pm, $5, byob
Experimental Art and Music Showcase including:
MUSIC:
Body of Light
Fake Brad
Hanzelle
Crayons and Antidotes
T-Rust
VISUALS:
Grayson Carroll
Fraiser Baudry
Brian Bailey
SOUND/ART:
Andrew Morill-Circuit Bent toys
Russ White- 4d mapping and color organ
Hank Pruett-Hallucination Box
Josh Gumiela
Crissy Crater
Amber Duarte
PHOTO/VID:
Karla Lozano
T'Ana Overton- CVR//CHRG Photobooth
$5! BYOB!