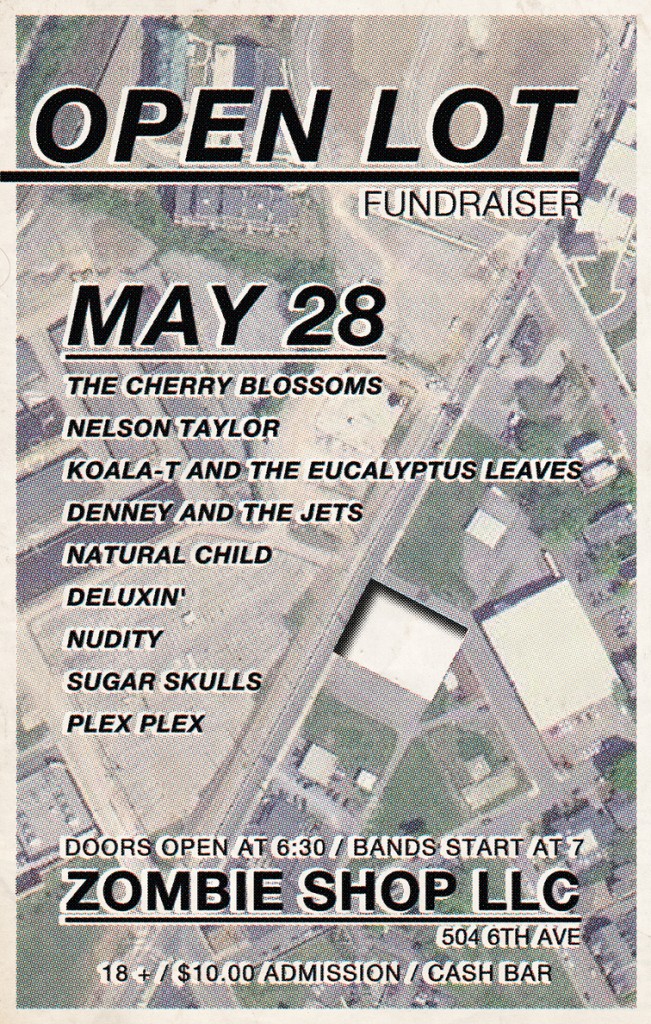 Nashville lost a great gallery and music venue earlier this year when Open Lot shuttered. I'm extremely pleased to announce the organization's triumphant return. Open Lot has secured a humongous warehouse just south of the Nashville skyline. (Full disclosure: I am on the Open Lot music committee.) The group has design plans, a waiting list of tenants, and a cavernous performance space buttressed by giant concrete columns. They have everything they need — except two things: completion funds and your support.
Here's how you can help:
Open Lot is holding a fundraiser and music festival Saturday, May 28th at the Zombie Shop (a motorbike co-op) in downtown Nashville. The lineup is a veritable who's who in the local indie scene, including NATURAL CHILD, DENNEY & THE JETS, DELUXIN', and THE CHERRY BLOSSOMS. For $10, you get 10 bands; and your money will go towards Open Lot's return.
Because they're in the demolition zone for the new convention center, the Zombie Shop will be relocating soon; and this may be the last show in the building before it's torn down. With the loss of one venue, another is reborn.
More details on the Facebook event page.
Saturday, May 28th
Open Lot Fundraiser
Zombie Shop, Nashville, $10 donation
18+, Doors at 6:30pm, Concert at 7pm
featuring:
Natural Child
Denney and the Jets
Deluxin'/Leather Nightmare
The Cherry Blossoms
NUDITY
Plex Plex
KoalaT and the Eucalyptus Leaves
Sugar Skulls
Nelson Taylor
The Zombie Shop
506 6th Ave South
Nashville, TN