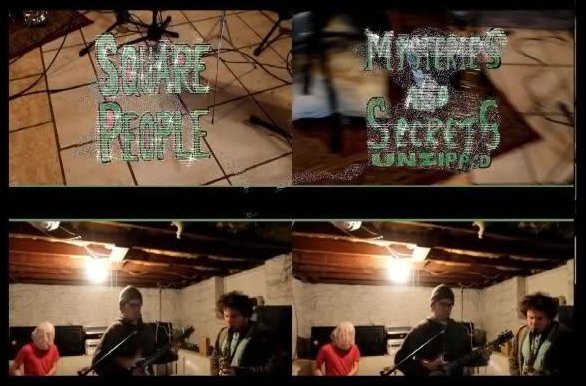 I hear tell local rock band SQUARE PEOPLE just put the finishing touches on a new tell-all documentary: Square People: Mysteries and Secrets Unzipped. I know this because my roommate is Square People's drummer and they shot said-video at my house while I was fighting off a stomach virus and painting the kitchen. Overall, a chill evening. Except for the 12 people in my living room, playing Grand Theft Auto while they waited for the next setup.
Alas, we must suffer for great art. Come see the movie premiere, Saturday, February 18th at Noa Noa (house). You may even spot a certain blogger in a cameo roll as an over-excited keyboardist.
The Facebook event page says, "Part performance feature, part biopic, part etc., SP:MSU is a thirty-minute, in-depth look at the band's history and future… and now. Presented in startling high definition."
The movie was shot by Drew Maynard, kick-ass local director who recently edited this gem. Square People frontman Chris Murray handled the editing duties.
My solo scoop & loop project ADVENTURE BOMB kicks off the show at 8:30. The film is at 9pm, followed by LESLIE KEFFER and 84001. All in all, an evening of mirth and mayhem.
Saturday, February 18th, doors at 8pm, show at 8:30
Noa Noa (house)
620 Hamilton Avenue
Nashville, TN 37203
Square People: Mysteries and Secrets Unzipped
Leslie Keffer
84001
Adventure Bomb