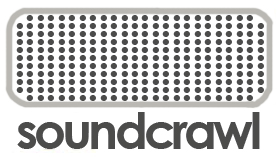 One Saturday evening each year, the downtown Nashville Arcade art galleries sing. The music emanating from the tiny box studios is the work of the SOUNDCRAWL, a sound art and new media exposition that takes over the Art Crawl each October. For 2011, Soundcrawl is expanding to three programs over the course of two days – October 1st through 2nd.
In an upcoming post, I'll interview Soundcrawl co-found KYLE BAKER about this year's program. I interviewed the other co-founder, AARON DOENGES about last year's Soundcrawl and more here.
I'm very excited about the inclusion of a live performance portion of this year's crawl: ART OF THE FUTURE, taking place October 2nd from 6 to 9pm at the Downtown Presbyterian Church. Here, you can, "interact with a video on a hologram, listen to sound art from a world away, tweak the knobs on a sound sculpture, lose yourself in an electric haze of sound from accomplished performers, take in new visual art, bathe in a oasis of space, breath and wind." Performers include MICHAEL KALLSTROM, ELIZABETH ROBERTS, and DEREK WEBB. I was originally scheduled to perform, but I had to cancel due to a scheduling conflict. (I'm presenting my new sound installation at Blackbird Gallery's October 2nd exhibition. More on that in an upcoming post.)
Go check out the Art of the Future page for the full details. The whole thing feels like an avant-garde fall festival, and I'm really bummed I won't be able to take part. Derek Webb's piece sounds particularly intriguing:
Feedback Project: Experience the first movement of Derek Webb's Feedback album in Immersive Audio, accompanied by live string players.  This emotionally stirring work of instrumental electronica will place the audience inside the sound as the work moves in 360° space around the audience, accompanied by Environmental Projection™ of Weiv visuals.  The Feedback Project performs at 8:30 in the Sennheiser Room.
The Art of the Future event is $10 for adults, $5 for students, and $20 for a VIP pass (which includes dinner and a digital download). But as a special promotion, Theatre Intangible readers can get in free!
Here's how. Soundcrawl: Art of the Future is releasing 25 free Adult tickets to Theatre Intangible readers. Follow this link and click "Enter discount code." Enter the code "TI". The first 25 responders will get a digital tickets that gets them into the event for FREE.
Soundcrawl: Mainstage at the Arcade features an international group of sound artists including Nashville Scene managing editor JACK SILVERMAN with his piece Selection.  I had no idea Jack dabbled in sound art, and I'm very much looking forward to hearing his work.
Here's a brief rundown of the Soundcrawl events. Check the Soundcrawl website for more details.
Soundcrawl is a sound art + new media festival taking place on October 1st and 2nd in Nashville, Tennessee.  Founded in 2009, Soundcrawl has presented the strongest and most compelling works from over 450 submissions by nearly one hundred artists from forty countries on every inhabited continent. [no kidding] Soundcrawl differs from other audio festivals in that it is a "festival distributed."  Multiple works play simultaneously in separate locations, offering audience members and curious passersby the opportunity to "opt-in" to a work they find intriguing.

Soundcrawl presents sound art and new media.  These are emerging fields of expression in which artists use new audio and video technologies as tools (modern paintbrushes) to develop works with unparralleled levels of control and expression. Examples of the kinds of work we present can be found on the "Soundcrawl Radio" at the bottom of this page.

This year the festival exists in three distinct expressions, all taking place the first weekend of October in Downtown Nashville:

Saturday, October 1st, from 6-7:30p

Soundcrawl presents the top 12 works of sound art from this years festival during the October First Saturday Art Crawl. Join the menagerie of artists, bohemians, professionals, and college students as they converge on the historic Arcade building to take in new shows at area art galleries to the aural accompaniment of international sound art!  We're also quite pleased to joined by the innovative interactive video software WEIV.  WEIV allows viewers to interact with video "scenes" using Wii® controllers.

Soundcrawl: Mainstage is free and open to the public.

The Arcade is located at 65 Arcade, Nashville, Tennessee

Saturday, October 1st, from 8-10p

Join Soundcrawl for an intimate listening room experience at the eclectic Bank Gallery. Located in an old bank vault, the BANK gallery is an ideal place to explore the whooshing, clicking, and poetry of international sound art.  An "urban picnic," bring food, refreshment and a blanket and bathe in the works of Soundcrawl.  Pieces will be interspersed with both conversation & intermissions to aid your sonic digestion.   Tickets are "pay what you want" and can be found here.

The BANK gallery is located at 226 3rd Avenue South, Nashville, Tennessee

Upon arrival, proceed downstairs.

Sunday, October 2nd, from 6-9p

A great night of sounds and wonders filled with innovative live performances and ground-breaking media installations at the historic Downtown Presbyterian Church.  Highlights include a performance by Electric Opera, visual art by Natalie Andrews, WEIV, sound and video stations, and a setting of Derek Webb's Feedback project in Immersive Audio.   Tickets are $5 for students, $10 for adults, and VIP passes (includes dinner & digital download) are $20. Tickets are available HERE.  Food and drinks will be available.