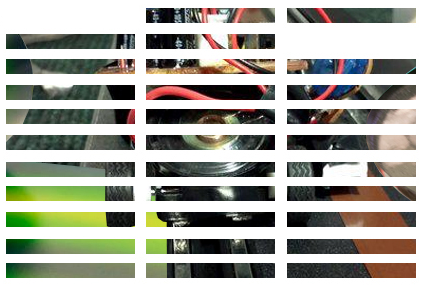 Justin Greenlee interviewed me a few months ago for volume 3 of the online Nashville arts magazine Art Art Zine. We discuss making, experimental music, and my "scoop & loop" project Adventure Bomb. The issue just came out!
Justin is a fine writer, and I really liked the way the article came out. I'll give you the direct link to the interview, but first, a few notes:
I didn't actually "invent" the Most Useless Machine. I built mine based on the Make Magazine design. I was the first, as far as I can tell, to wrap it up in a Christmas present. (<– YouTube video is now over 100,000 hits. Woo hoo!)
In the interview, Justin asked me about the state of experimental music in Nashville. I answered, but later thought of some people I had left out. I e-mailed Justin the additional comments, but they didn't make the final article. In the interest of giving credit where credit is due, here's the full answer:
TY: I think you can partially credit Leslie Keffer, with Betty's. She doesn't want Betty's to be known as an experimental venue, but a great deal of what she does is experimental music (noise music, avant-garde, noise pop), and it's become the place for people to play. Also Open Lot, with [former director] Jonathan Lisenby; I couldn't give him enough credit for fostering a scene that wasn't there before. A few instrumental people include Chris Davis, John Brassil, David Maddox, Matt Hamilton, Dylan Simon, Sabine Schlunk at Gallery F, Brady Sharp, Lesley Beeman and Lain York at Zeitgeist Gallery (Indeterminacies series which Theatre Intangible is podcasting), and Lauren Plum putting on shows in Murphreesboro. So it feels like we're in the golden age. We don't really know what it is yet, but we know it's exciting, and we know it has potential. I think that's the most exciting time to be in any "scene," so to speak.
You may have noticed I mentioned the now-noiseless Betty's Grill. I answered that question several months ago, before Leslie parted ways with the west Nashville dive. Were I to answer now, I'd also include Stephen Molyneux, founder of No Kings Records, member of Horsehair Everywhere, and show promoter at the new house venue Richland Ballroom. Having talked more with Chris Davis since I answered, my "golden age" comment is perhaps over-puffed. Chris, Brady Sharp, Matt Hamilton, and others have been putting on experimental shows in Nashville for many, many years; and they deserve a lion's share of the credit for the community we have now.
With all that out of the way, check out the article! Also in the issue: T.I. participant Rhendi Greenwell and friends of the show Matt Christy, Megan Kelly, and Nashville craft collective Craftville.