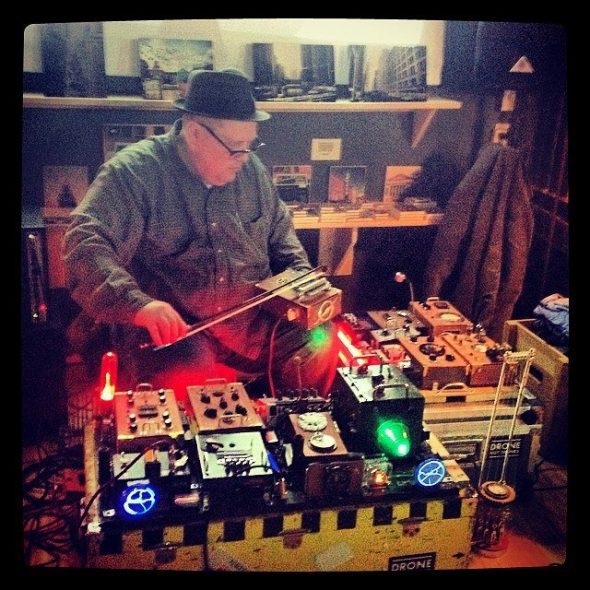 Tim Kaiser, maker supreme, ambient maestro, and two-time Circuit Benders' Ball performer, is returning to Nashville on Friday, April 14th to perform a special set at Make Nashville. On Saturday afternoon, he will lead a piezoelectric pick-up workshop.
Based out of Duluth, Minnesota, Tim creates his own instruments out of thrift store finds, children's musical toys, automotive parts, and in a few cases, snow plows! He plucks, bows, loops, and bends the instruments into melodic, otherworldly ambient music. This profile by Make TV is a great introduction:
Opening the Friday evening show is Nashville keyboardist and circuit bender No Stress (Paul Horton). Paul plays in the jazz duo Concurrence and is a touring member of the Alabama Shakes. As the solo act No Stress, Paul uses circuit-bent toys, keyboards, and looping pedals to make music unlike anything you've heard.
Here's Paul at the 2014 Circuit Benders' Ball (under the moniker The Tree is Base):
Saturday afternoon from 12pm to 3pm, Tim Kaiser will lead a workshop on making piezoelectric pick-ups, the very same kind he puts in his kalimbas and bowed instruments.
Tickets are on sale now for both events. Details below.
Friday, April 14, 8pm
An Evening with Tim Kaiser and No Stress
@ Make Nashville, 947 Woodland St, Nashville, TN 37206
All ages, $10 in advance, $15 at door.
Buy tickets here.
Saturday, April 15, 12pm to 3pm
Create a Piezo Electric Pick-up with Tim Kaiser
@ Make Nashville, 947 Woodland St, Nashville, TN 37206
All ages, $15 for Make Nashville members, $20 for general public
Buy tickets here.