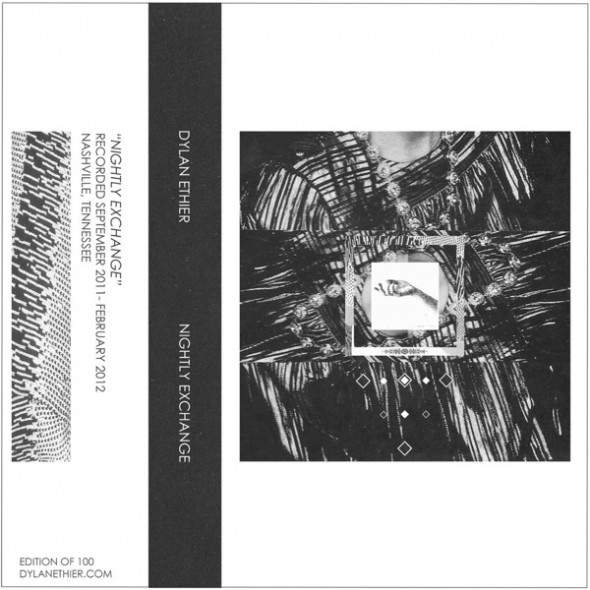 I'm listening to Nashville experimental artist Dylan Ethier's new cassette release Nightly Exchange, and my mind is being blown. Heavily-distorted synth lines rapidly tremolo through the left and right channels. It's melodic. It's organic. It's meticulously constructed. It feels like a collaboration between Stockhausen, Merzbow, and Debussy. It also reminds me a bit of the brilliant Brainiac song Collide. In short, I really love it. Ethier is a Nashville musician to keep your eye on.
Of the release, Dylan's website says,
Tape reconstruction of saturated analogue electronic patterns focusing, through fragmentation, on the exchange between lucidity and loss. An alternate version of Nightly Exchange was presented live as an interactive installation on march 9, 2012 in Nashville, TN in collaboration with the exhibition titled Nest of Trash curated by Molly Lahym. The installation involved real-time collaging of deteriorating 1/4″ tape recordings. These recordings were then looped / manipulated between three tape machines at various speeds which additionally subtly triggered synthesized video projections. Presented inside a structure of black fabric and wood, exhibitors were free to further manipulate the audio / visual content. The intent here was in utilizing found materials in the process of constructing a creative and meditative environment.
I was out of town on the night of the Nest of Trash show, and I'm really bummed I missed it! Purchase Nightly Exchange via Dylan's website and preview Side A in the Soundcloud stream below.
We'll keep you posted on the next time Dylan performs or does an installation. I'm in talks with him to collab on a T.I. podcast. Fingers crossed.