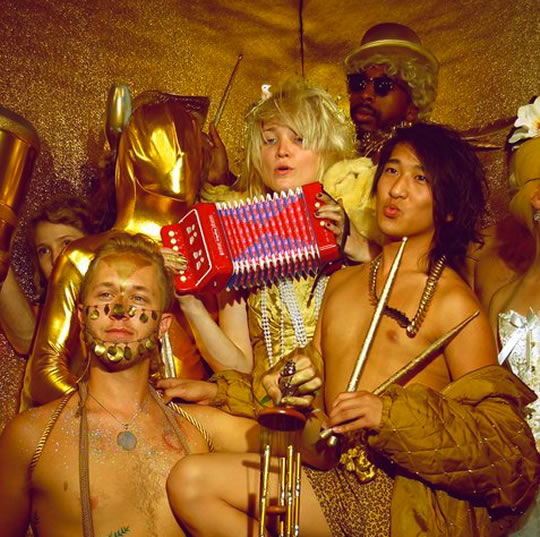 If you're not much of a garage rock slash throwback punk slash self-described "working class music" fan (and experimental music fans are the pretentious ones???) and you find your weekend not so freakin', worry not. You still have options.
Here are two:
Friday, March 9th at Noa Noa, you've got Atlanta's The Back Pockets, Lily and the Tigers, Trey Mosley, and Square People's debut performance with a real live bassist (Nathan from Deluxin').  More info at the Facebook event page. Watch a video of the Back Pockets below.
Also on Friday: Art show Nest of Trash at 100 Taylor Street, featuring Theatre Intangible participants Matt Hamilton, Rhendi Greenwell, and more. Joe Nolan's Nashville Scene preview makes the show sound like a must-see:
The brainchild of Molly Lahym, Nest of Trash is a one-night-only art exhibit within an art installation. The primary installation will be built from reused and recycled materials, and various objects and debris will help define paths that lead viewers from work to work, artist to artist. Musician Dylan Ethier will be interviewing the show's guests and mixing their responses into instant electronic compositions, while Matt Hamilton and Jeremy Mazza will be sourcing sounds from live microphones hidden around the room. The show will also include work by Rhendi Greenwall, John Moore, Joshua Jones, Scott Metzger, Joe Silva and aerialist Leela Sophina. The location for tonight's happening is an empty warehouse that seems primed for a second life as an art events spot.
Interviewing the show's guests and mixing their responses into instant electronic composition. Hmmm, where have I heard that before?
Ok, ok, I'm not really that catty. Nashville's Dead is an awesome local music resource (even if they do use the word "bebe" too much) and Dylan Ethier actually sounds like a kindred spirit. The music on his web page is pretty amazing. (Dylan, if you're reading this, let's do an improv together!)
Friday, March 9th
Noa Noa, 8:30pm, free, byob
620 Hamilton Avenue, Nashville, TN 37203
The Back Pockets, Lily and the Tigers, Trey Mosley, Square People
100 Taylor Street, 7pm, free
Nest of Trash feat. Dylan Ethier, Matt Hamilton, Jeremy Mazza, Rhendi Greenwall, John Moore, Joshua Jones, Scott Metzger, Joe Silva, Leela Sophina