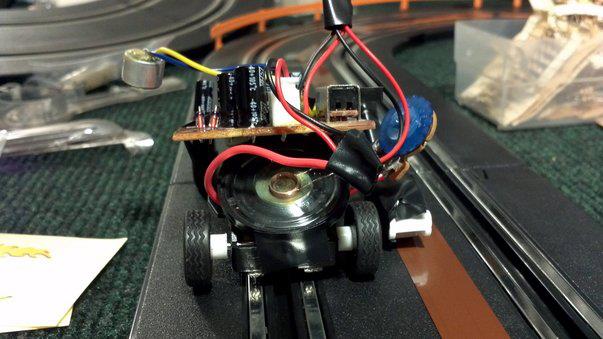 I've been working feverishly on my installation for Sunday's exhibition opening Digital to Dust: Objects in Transition at Blackbird Tattoo and Gallery. I'm making a slot car tape player. What's that? Watch the video below for my initial test run.
I'll be on hand at the gallery for most of the night to answer questions. With the Soundcrawl taking over the Art Crawl, this weekend is shaping up to be a great art experience! Come say hi!
Here's the press release:
Blackbird Tattoo and Gallery proudly presents:

Digital to Dust: Obsolete Objects in Transition

Examining the overlooked potential in discarded and outdated technology, the works of engineer Tiberiu Chelcea and musician Tony Youngblood create a visual and auditory exploration of objects in transition. Using found re-purposed circuit boards, Chelcea's drawings and prints offer a meditative exploration of the line that divides …that which is analog and digital and the re-contextualization of the obsolete. Chelcea chooses to slow the rapid demise of these objects and create their alternate existence as maps, subjects of "portraits", and explores the artist's relationship to technology.

Circuit bender Tony Youngblood is known for exploring the hidden potential of sounds within electronic circuitry. Using two moving slot cars on a track and magnetic tape, Youngblood creates a kinetic sculpture which plays a recording based on the relationship of the cars to offer his audience a visual and aural exploration of transition. Join us at Blackbird Tattoo and Gallery for the opening, Sunday October 2nd from 6:30-9.