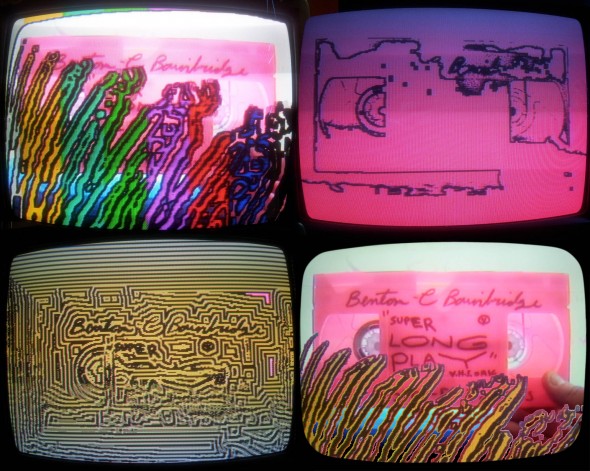 Dual resident of New York City and Nashville BENTON BAINBRIDGE premieres his new video show SUPER LONG PLAY! tomorrow night at Seed Space. For the past two months, ERIN LAW, PERRIN IRELAND, and myself have been working with Benton on an upcoming experimental dance/video/sound performance. (More on that soon.) His low-fi experimental video work is nothing short of inspiring!
Of the new exhibit, Benton says,
"Super Long Play!" is an electronic sketchbook of 50 VHS T-15 tapes I made in the past two weeks here in Nashville along with my collaborators Erin Law, Perrin Ireland, Tony Youngblood, Ryan Hogan, Johnny Invective, and my 6 year old son Ezra Bainbridge-Powers.
I collaborated with Benton on 6 or so tapes, and it was a blast! I won't reveal what we did. You'll have to check it out for yourself.
How do you experience the tapes? You pick one up and pop it in the lone tv/vcr combo at the gallery. It's that simple! To view a tape with a particular collaborator, hunt for the tapes with that person's signature.
The Nashville Scene's Jack Silverman interviewed Benton about SLP! and remembering Adam Yauch from the Beastie Boys. It's essential reading. Check it out here.
Reception is Saturday, May 12th from 6pm to 9pm at Seed Space, located in Chestnut Studios, 427 Chestnut St, Nashville, TN.