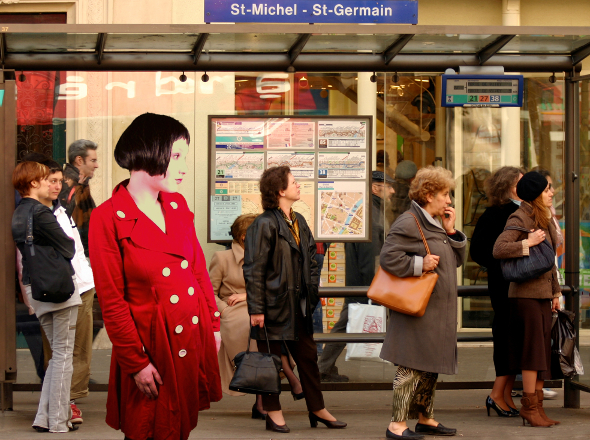 Erica Ciccarone and I put on a live art installation last Saturday at Ground Floor Gallery during the December Arts & Music @ Wedgewood/Houston. We built a huge cube and on the front side projected a web browser with continually updating social media posts. The posts were photos and comments from the fictitious Charlotte Blight as she traveled around the world. Inside the cube, Erica posed in front of a green screen as we captured pictures and inserted backgrounds. As soon as I had an image composited, I would post it to the ever-evolving cube wall.  We posted 18 photos in three hours, averaging one every ten minutes.
Here are photos from the event — the Charlotte Blight images, behind-the-scenes shots and photos from attendees.
The cube with a video capture of the show projected on the front side will be up for the rest of December. Ground Floor is located in the Chestnut Square building at 427 Chestnut Street, Nashville, TN 37203. Call 615-478-1467 to schedule a free viewing.
From #openaccess, posted by Tony Youngblood on 12/16/2013 (47 items)
Generated by Facebook Photo Fetcher 2