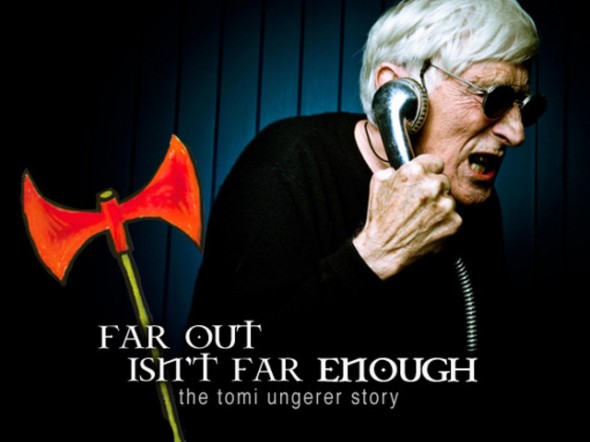 I just got home from opening night at the 2013 Nashville Film Festival, having watched MUD and FAR OUT ISN'T FAR ENOUGH: THE TOMI UNGERER STORY.
MUD is Jeff Nichol's follow-up to his acclaimed TAKE SHELTER. MUD stars Matthew McConaughey, Reese Witherspoon, a bunch of other weighty adult actors, and two child actors. Tye Sheridan, the poetry-whispering son-of-Pitt in TREE OF LIFE, plays Ellis, a hard-scrabble river rat. Jacob Lofland plays Neckbone, Ellis' sidekick and the most realistic and entertaining performance in the whole picture. Too bad he's only the sidekick.
The plot of MUD is basically THE SPIRIT OF THE BEEHIVE meets STAND BY ME. The two boys befriend a wanted man on an island on the Mississipi River in rural Arkansas and help him elude capture, in the process learning about life, love, and magic shirts. I would have sworn Nichols was a big city director trying make a "Southern" film because the characters came off as dimensionless Southern caricatures (except the aforementioned Lofland). But Nichols grew up in Little Rock, so search me. The plot feels forced at every turn with a few too many "What's that, Lassie?! Timmy's fallen in the well?!" moments. The denouement is so absurd I couldn't believe it was actually happening. As we exited the theater, a friend said that it made sense if you looked at it in the scope of Greek Tragedy, but that feels like a bit of a just-so story.  And you know what? We have enough Greek Tragedy.  From the Greeks. Enough "modern retellings" of classical narratives, please.
Next up was FAR OUT ISN'T FAR ENOUGH: THE TOMI UNGERER STORY. I was not prepared for how much I would enjoy this documentary about the children's book writer and illustrator of subversive erotica. The film follows his childhood  in Nazi-occupied France to the brights lights of 50s and 60s New York City, to banishment in Novia Scotia, and semi-retirement in Ireland. What's remarkable about Tomi is that he was able to lead a triple life of children's book author/illustrator, anti-war poster propagandist, and erotic artist for so long without one vocation threatening the others. Of course, his insular fan-bases finally did discover each other, and as a result, he wasn't able to sell another children's book for over two decades. Tomi coined the phase, "Expect the unexpected," and his work was a principle inspiration for Maurice Sendak's "Where the Wild Things Are." Director Brad Bernstein's pacing is just right, and I was never taken out of the film, save for the occasional slick-and-gimmicky animation of still-drawings and photos that for some reason is so popular in documentaries these days.
FAR OUT ISN'T FAR ENOUGH plays again Friday at 4:00 PM. Don't miss it.
<– NaFF Preview
–> NaFF Days 2 & 3