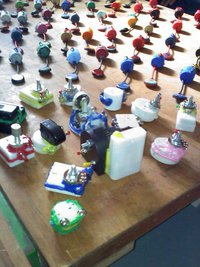 You may remember CMKT4 from their much-discussed performance at the 2010 Circuit Benders Ball. They also put on an extremely successful Bottle Cap contact mic workshop. This Thursday, they'll be hosting another workshop at Nashville's Hacker Consortium. You have the choice between building a bottlecap contact mic or a "bending buddy."
Here's some info from the Facebook event page:
Details about the Bottle Cap Contact Mic:
Join the members of the circuit-bent rock band CMKT4 for a workshop on building your very own EconoMIC Bottle Cap Contact Microphone (from Creme DeMentia). CMKT 4 will show you how to solder up a piezo-electric pickup and house it sturdily in a recycled bottle-cap housing of their own design!  Additional take-home kits and other surprises will be available, come build a mic and see and hear some of the circuit-bent instruments you've read about on www.GetLofi.com up close. Bring your own instruments and objects to amplify!

This workshop is $15, additional kits will be on sale for $10, and we'll have fully assembled mics in several varieties for sale as well. We'll have some other fun goodies also. Interested onlookers are encouraged to donate if they don't want to build a kit.

Details about the Bending Buddy: The Bending Buddy is a circuit-bending tool that students will build and then use! Building a Bending Buddy will help polish up your layout, drilling, component mounting, soldering, and hot glue skills. After building the device, it will be ready to help you explore battery-operated circuits with ease using body contacts and a momentary switch. We'll have several toys on hand for your experimentation.
On Friday, CMKT4 will be performing a circuit bent set at Betty's Grill. The bill also features Posttaste (Tommy Stangroom of Square People), Prince Howard (William Davis), and Terrorish. More details on the Facebook event page.