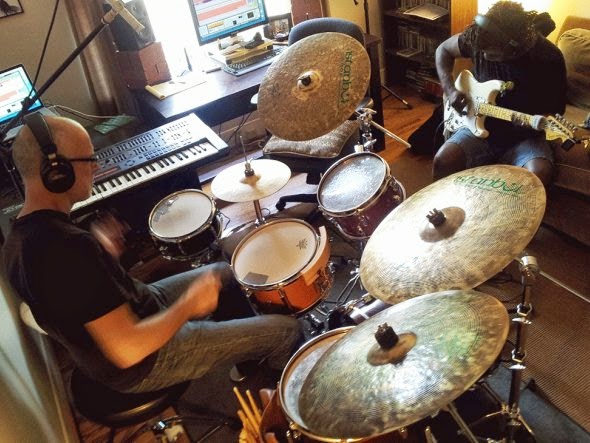 Here's podcast 105: Robert Bond and Regi Wooten Artist Showcase.
We recorded this series of four improvs at The B Room in Nashville on June 18th, 2013. Regi and Robert are two Nashville musicians with long and fruitful careers who have only just recently begun performing together.
Guitarist Regi Wooten is the eldest of the Wooten Brothers, five tremendously talented siblings. Victor Wooten plays bass in Bela Fleck & The Flecktones and other projects. Roy "Future Man" Wooten is a percussionist, instrument designer, and drummer for Bela Fleck & the Flecktones. Joseph Wooten plays keyboards with The Steve Miller Band and other projects. Rudi Wooten played saxophone in Rudy and the Ban of Brathazz, on his brother Victor's albums and in various other projects. Sadly, he passed away in 2010.
When the Wootens were children, Regi assigned each brother with an instrument and taught them all how to play. The young Wootens toured the country extensively, opening for artists such as Curtis Mayfield, War, and The Temptations.
Regi teaches guitar in Nashville and performs with the other Wooten Brothers Band weekly at Third and Lindsley, a showcase now in it's 21st year.
Robert Bond is a percussionist, electronic artist, producer and composer. He is a graduate of Indiana University School of Music where he studied both jazz and classical. Robert has worked with The Yardbirds, Bo Diddly, Charlie McCoy, London Symphony Orchestra, Charlie Louvin, Sleepy LaBeef, Chris Stein of Blondie, 3kStatic, Les McCann, jpop star Hitoe and countless others. He has taught at Lavelle School for the Blind in New York, as artist in residence for Fundacio "la Caixa" in Spain, for the Osher Lifelong learning Institute at Vanderbilt University, and as Adjunct Professor at Blair School of Music at Vanderbilt.
Robert also opened the Zeitgiest Indeterminacies series at the new Zeitgeist space.
Regi and Robert took a unique approach to this session. They recorded an initial improv with Regi on electric bass and Robert on electronics. Weeks later — and on the date I was in attendance — they ran back the tape and recorded again with Regi on guitar and Robert on drums and additional electronics. This is essentially a quartet with two players improv-ing with past versions of themselves.
Since we were in his studio (The B Room) and the setup involved multi-tracking, Robert Bond recorded, engineered, and mixed this episode. I did some light mastering and assembled the four improvs.
See below for a video I took during the performance.
Thanks for listening!
Podcast: Play in new window | Download (56.1MB)