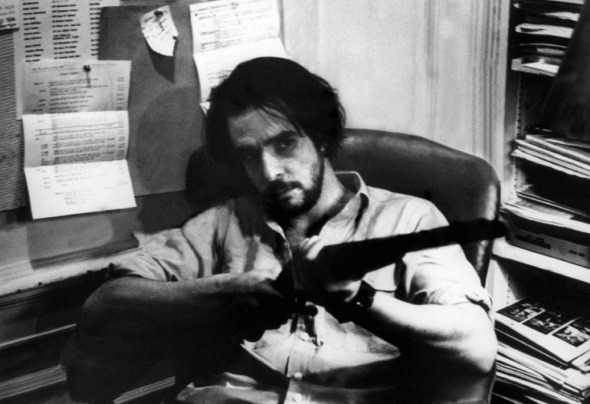 Heads up. The next installment of James Cathcart and Ben Swank's Light and Sound Machine experimental film series at Third Man Records is tonight.
Tonight's film is ICE:
Directed by Robert Kramer, USA, 1970, presented on 16mm film

Guerrilla filmmaking in every sense, Kramer's independent/underground, cinéma-vérité/science-fiction boundary-crosser used a budget of only $12,000 to produce an ambitious imagining of America in the throes of armed insurrection. The story is set in a vaguely defined future (which, à la Godard's ALPHVILLE, looks just like the present) in which an unpopular U.S. war in Mexico provokes a left-wing uprising. Concerned with the nuts-and-bolts of revolutionary action and the debilitating effects of infighting among radical groups, ICE is in many ways the fictional equivalent of Chris Marker's A GRIN WITHOUT A CAT. 16mm. (MR)
I pulled that quote from the Belcourt and Third Man sites. Tickets will be available at the Third Man door, but I recommend you buy in advance via the Belcourt website.
The Light And Sound Machine
Co-presented by Third Man Records and the Belcourt Theatre
Robert Kramer's ICE
7pm, July 18th, 2013, $10  ($8 Belcourt members)
Third Man Records
623 7th Ave S – Nashville, TN 37203