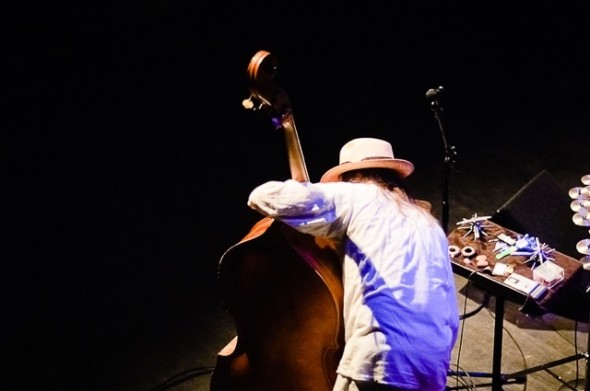 If you like extended technique and bass artistry reminiscent of Peter Kowald,  Thomas Helton and  T.J. Borden, you need to be at The Stone Fox on Monday, July 1st.
Darin Gray plays stand up bass and electric bass in extremely innovative ways. He has performed with Chris Corsano and Tatsuya Nakatani. As his wiki states,
He is best known for playing bass in St. Louis' Dazzling Killmen, and with Jim O'Rourke in Brise-Glace and on O'Rourke's solo albums.A prolific musician since the 1980s, Darin has appeared on albums ranging from noise to math rock. Besides Dazzling Killmen and Brise-Glace, he has played in bands such as Yona-Kit, You Fantastic!, Sad Lewis, Grand Ulena, and On Fillmore. Darin's collaborators include Jim O'Rourke, Glenn Kotche, Gastr del Sol, Bunnygrunt, Loren Mazzacane Connors, Cheer-Accident, Kevin Drumm, Bobby Conn, Early Day Miners, and KK Null among others.
He's also known to play an electric bass on his lap, reminiscent of the work of Nashville guitarist Brady Sharp. Fittingly, Brady will perform at Monday's show.
Nashville guitarist William Tyler will perform a duet with Darin. Also performing are Michael Ross and Robert Bond. Michael is the editor of Guitar Moderne and a recent Nashville transplant. This will be one of his first Nashville shows, and I'm excited to see him perform. Robert Bond is a multi-instrumentalist, producer, and overall awesome guy. We just recorded a smoking Theatre Intangible improv with Robert and guitarist Regi Wooten. Look for that next week.
William Tyler has a new album out on Merge Records. William appeared on the podcast here, and Brady appeared on it here, here, and here. For more info, check out the Facebook event page.
Darin Gray & William Tyler, Brady Sharp, Michael Ross & Robert Bond
July 1st, 9pm, $6 to $10
@ The Stone Fox
712 51st Ave N.
Nashville, Tennessee 37209