After a not-so-brief hiatus, the TI podcast is back with Episode 82: Mu Artist Showcase!
MU is the experimental guitar-based project of Louisville, Kentucky resident DOUGLAS LUCAS. Douglas performed a very visceral set hunched over a modified guitar at Noa Noa on April 13th, 2012.
On the podcast, I talk with Douglas about making music, growing up in a small Kentucky town, and his annual event, the Louisville Experimental Festival, kicking off this year on June 27th. The fest is, as the Facebook page states, "an amalgamation of experimental music," featuring local and national acts. It's a major event and close enough for Nashvillians to check out. See below for a full lineup.
The podcast also features Mu's live performance at Noa Noa, as well as the performance of Louisville tape-loop drone kings ASHOCHIOUS. See below for a video clip.
The April 13th show also featured MICROWAVE WINDOWS and HARDON COLLIDER, who I interviewed for an upcoming podcast. All four bands participated in an incredible live improv to be released soon.
Discussed in this episode: The Peeling Wallpaper Ensemble, The Japanese / American Noise Treaty compilation, Wet, John Cage's 4'33", and Mu's new CD-R release "Meal."
Louisville Experimental Festival 2012 Lineup and schedule:
Wednesday, June 27th @ Lisa's Oak St. Lounge (1004 E Oak St.):
(Doors at 7:30pm, Show at 8pm)
Bone Crusher, Morgan Evans-Weiler, Developer, XAMBUCA, Cosmological Constant, NO Copper
Thursday, June 28th @ The Bard's Town (1801 Bardstown Rd.):
(Doors at 7:30pm, Show at 8pm)
Adeptive Radiation, Bear (The Ghost), Solace Media Corporation, Thriftsore Boratorium, Microwave Windows, Mu
Friday, June 29th @ Haymarket Whiskey Bar (331 E Market St.):
(Doors at 7:30pm, Show at 8pm)
Parched Earth, Noiseman433, Talking Computron, Interstates (etc.), Zack Kouns, Ashochious, Hardon Collider, Joey Molinaro
Saturday, June 30th @ Zanzabar (2100 S Preston St.):
(Doors at 7:30pm, Show at 8pm)
Shedding, Sick City Four, Duet for Theremin and Lap Steel, Hearts of Palm, Tropical Trash
Sunday, July 1st @ Uncle Slayton's (1017 E Broadway):
(Doors at 6:30, Show at 7pm)
R Keenan Lawler and Tim Barnes, Ut Gret, Ryan Jewell, Misha Feigin and Davey Williams, Black Kaspar, Kark
All shows: $5 suggested donation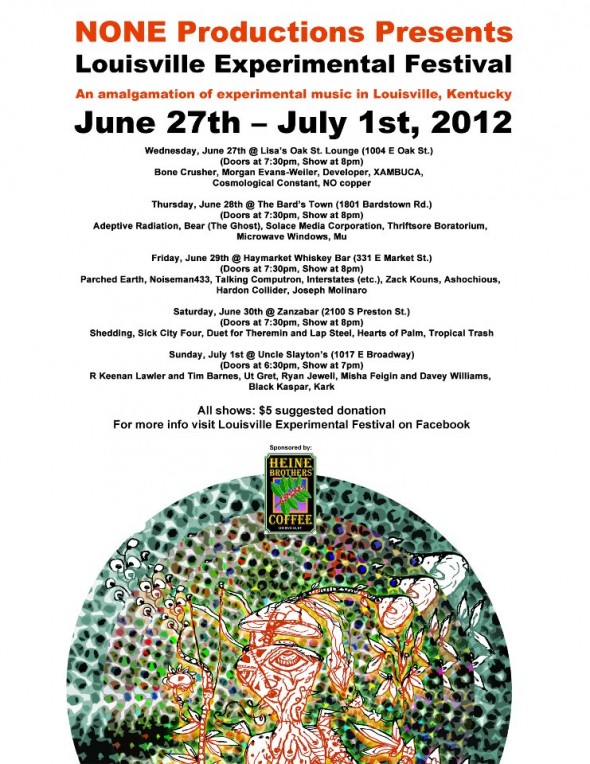 Podcast: Play in new window | Download (Duration: 1:08:27 — 125.5MB)