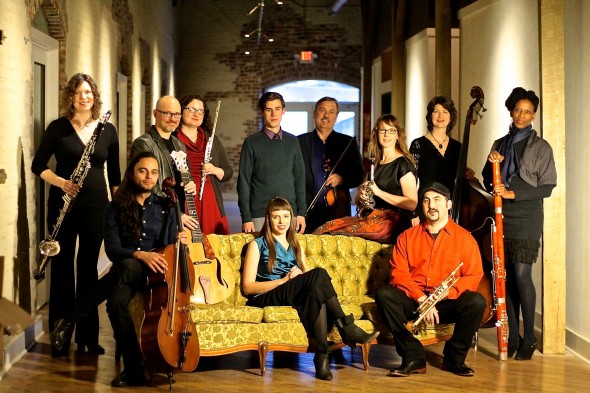 There are many things to do this Saturday, but two events are especially worth your time. At abrasiveMedia at 3:30 and 7:30 p.m., alt-classical ensemble Chatterbird will be premiering Minor-Born, a new commission by Nashville composer/songwriter/pianist Brooke Waggoner. Expect toy pianos, typewriters, saxophone, electronics, bassoon, and more as they perform works by Daniel Wohl, Logan Castro, Bryan Clark, Jacob TV, Alex T. Leach, Randy Woolf, Gene Koshinski, and Ted Hearne. Tickets are $15 in advance at this link or $20 at the door. This show will very likely sell out, so advance purchase is highly recommended. More info at the Facebook event page.
Next is the final show at The Rushmore house venue's current location. The bill features Circuit Benders' Ball alum Cher Von, Modular Art Pods alum Kyle Numann, and Nashville songwriter Justin Goldman. I've written about Cher Von plenty of times in the past. She's a true original, a phenomenal melody writer, and star in the making. The show starts at 9 p.m., and there's a $3 cover. More info on the Facebook event page.
Watch the videos below to see what you're in for.
Saturday, May 30th, 2015
Chatterbird presents: MINOR-BORN, by Brooke Waggoner
2:30 p.m. and 7:30 p.m., $20
@ abrasiveMedia, 438 Houston St, Suite 257, Nashville, Tennessee 37203
Cher Von, Justin Goldman, Kyle Numann
9 p.m., $3
@ The Rushmore (house), 724 26th Ave N, Nashville, TN 37208