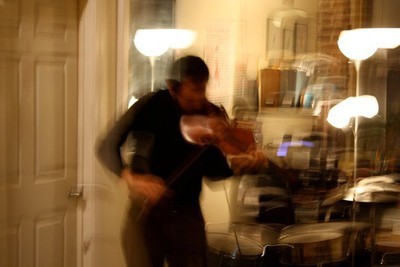 Boston area violinist and electronic improvisor MORGAN EVANS-WEILER will perform at Noa Noa on Friday, June 29th. Fans of the extended instrument technique of artists like JOHN BUTCHER, THOMAS HELTON, and local BRADY SHARP should not miss this show. Check out the clip below to see what I'm talking about.
Also performing are the esoteric synthesis of DYLAN SIMON and the ambient tape loops of SPARKLING WIDE PRESSURE. All and all, it's an evening of challenging and fascinating music. It all goes down at 8pm sharp on the back porch of Noa Noa.
Before you head over, stop around the corner at Chestnut Studios to see new openings at Seed Space and Threesquared. At the former, the opening reception of "Fortune Holiday," a new installation by NICOLE BAUMANN. At the later, an opening of 2D works by our good friend MATT CHRISTY. Both receptions are from 6 to 8pm at Chestnut Studios, 427 Chestnut Street, Nashville, Tennessee 37203.
More info about the Noa Noa show at the Facebook event page.
Friday, June 29th, 8pm, all ages, byob, $5
An evening of experimental, abstract music featuring
Morgan Evans-Weiler
Dylan Simon
Sparkling Wide Pressure
Back yard @ Noa Noa (house)
620 Hamilton Avenue, Nashville, TN 37203
Park on street, business lots, or walk from Chestnut Studios