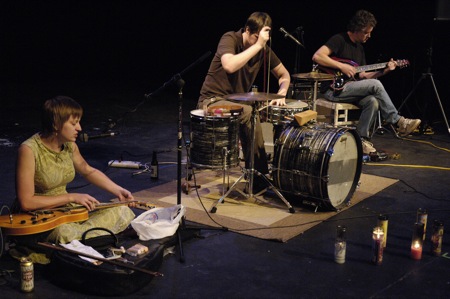 Catch one of Austin, Texas' best and brightest rock bands this Sunday at Brick Factory Nashville. WEIRD WEEDS make GREAT music, and you need to be at this show. That's as poetic as I'm going to wax. For more, listen to the songs on their Bandcamp and read the below quote from Sedimental Records. Weird Weeds helmer Nick Hennies has his hand in many pies, including solo recordings of the works of ALVIN LUCIER and the occasional collaboration with outsider music enigma JANDEK.
Ten years, five records, and The Weird Weeds remain a band without a country. With songs too lopsided and winding to rock and tunes too overt for stuffier experimentalists, they happily occupy a territory all their own – strange and singular, but not devoid of a knotty interior logic. – http://sedimental.com/catalog/index.php?ID=67
Also on the bill are Nashville's THE  CHERRY BLOSSOMS and DELUXIN'. Check the Facebook event page for more info. (Full disclosure: I helped organize this show.)
Hope to see you there!
Sunday, June 24th, 9pm
Weird Weeds, The Cherry Blossoms, Deluxin'
$6-$10 suggested donation, byob and Yazoo beer on tap.
Brick Factory Nashville (inside Cummins Station)
Suite 126 by Elevator B (middle of building, bottom floor)
209 10th Ave South
Nashville, TN 37203