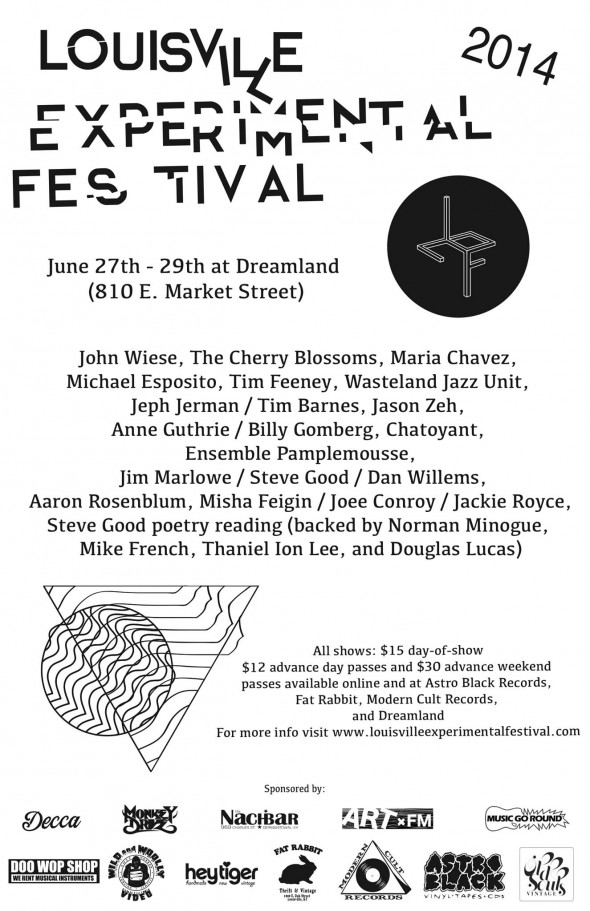 I can't say enough good things about Douglas Lucas' yearly Louisville Experimental Festival, happening this weekend at Dreamland. (See my writeups about previous years here.)
This year, the organizers set out to only invite bands who had never played the fest previously, which resulted in the most exciting lineup to date. Highlights include Nashville's own The Cherry Blossoms, NYC abstract turntablist Maria Chavez, extended-technique percussionist Tim Feeney, Los Angeles composer and Merzbow collaborator John Wiese, Arizona sound artist and "natural found object" instrumentalist Jeph Jerman, experimental percussionist and Sonic Youth collaborator Tim Barnes, NYC composer and field recording artist Anne Guthrie, cassette tape manipulator Jason Zeh, and so much more. On top of all that, Michael Esposito will demonstrate "electronic voice phenomena," a technique used by paranormal researchers that basically looks for hidden spirit speech in audio recordings made in spooky places. However, you don't have to believe in ghosts to enjoy Esposito's layering of EVP recordings into sound art.
This is a perfect excuse to road trip to one of the best cities in the country. Here's the full schedule and media streams from a few of the artists.
Louisville Experimental Festival
June 27th – 29th, 2014
@ Dreamland
810 E. Market Street, in the alley behind Decca Restaurant
Louisville, Kentucky
$15 per day, tickets sold at door.
Friday, June 27th:
(music starts at 7 p.m.)
MARIA CHAVEZ
MICHAEL ESPOSITO (Phantom Airwaves)
TIM FEENEY
JIM MARLOWE / STEVE GOOD / DAN WILLEMS (members of Tropical Trash, Ut Gret, and Sick City Four)
AARON ROSENBLUM
Saturday, June 28th:
(music starts at 7 p.m.)
JOHN WIESE
JEPH JERMAN / TIM BARNES
BILLY GOMBERG / ANNE GUTHRIE
WASTELAND JAZZ UNIT
Steve Good poetry reading (backed by Norman Minogue, Mike French, Thaniel Ion Lee, and Douglas Lucas)
Sunday, June 29th:
(music starts at 6 p.m.)
THE CHERRY BLOSSOMS
JASON ZEH
CHATOYANT
ENSEMBLE PAMPLEMOUSSE
MISHA FEIGIN / JOEE CONROY / JACKIE ROYCE