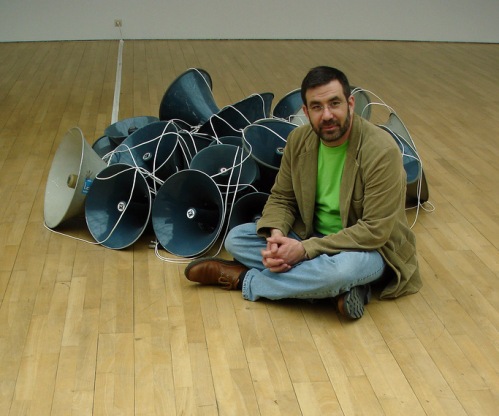 I'm fascinated by tape loops. We experimented with really long tape loops on T.I. episodes Stone in Stream and Attrition. I even attempted to make a slot car tape loop. (Needs refinement.)
So it's no surprise that I'm excited about tape loop master Jason Lescalleet coming to Brick Factory Nashville, Saturday, August 25th. As Chris Davis writes on the Facebook event page:
Jason Lescalleet is a high level musique concrete artist performing his music on reel-to-reel tape machines. His live performances are a fascinating journey down a rabbithole of sound…one of Lescalleet's most striking talents is his ability to extract and build upon singular aspects of a sound…a microtonal universe of exploded details. Lescalleet is also an imaginative collaborator, having worked with some of the greatest contemporary sound artists–Aaron Dilloway, Joe Colley, John Hudak, Graham Lambkin, Greg Kelley and Bhob Rainey of nmperign and with Ron Lessard as a member of Due Process.
Watch a video of Jason performing live in Paris at the end of this post.
Also on the bill are lo-fi looper Todd Gerber and Ephemeral Throne, the new project by Aether Jag's Bridget Venuti and local noisemaker Reid Campbell.
Todd makes ambient loops generated by the legendary Casio SK-1 keyboard. I interviewed him and his brother Tony Gerber on T.I. episode 90. Todd tells me that he won't be breaking out the SK-1s for this show, but he will be bringing some of his current battery-operated favorites.
Bridget Venuti is a brilliant circuit bender and instrument designer. Check her out on T.I. episode 79.
Jason Lescalleet, Todd Gerber, Ephemeral Throne
Saturday, August 25th, 9pm
$7-$10 suggested donation to touring band
Brick Factory Nashville (inside Cummins Station)
Suite 126
209 10th Ave South
Nashville, TN 37203
Enter street level, walk to center of building
Take Elevator B to lower level
Turn right, you're there.