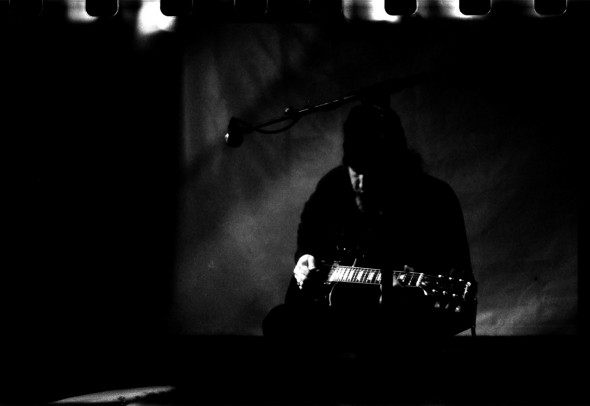 FRML Arts is presenting a hell of a show at Emma Bistro tonight, featuring Sir Richard Bishop, Tashi Dorji, and Tate Eskew.
The FMRL Arts blog has the details:
Sir Richard Bishop, like Cameo, is a knight of the sound table. Comparisons to Larry Blackmon end there. His discography is both diverse and extensive in a variety of contexts–as a member of psychedelic ethnic forgers Sun CIty Girls with his brother Alan and Charles Gocher; in VU-related garage band Paris 1942 with brother Alan and drummer Moe Tucker; creating Arizonan laundryroom exotica with Eddy Detroit; reprising Square Nine's strange surf-bowed tsunamis with Maybe Mental's David Oliphant; creating blistering trio improvisations with Chris Corsano and Ben Chasny in Rangda; and performing nimble-fingered hothouse jazz tinged with eastern modalities as a solo artist, owing as much to Django Reinhardt as to Omar Khorshid.

Tashi Dorji is a Bhutanese free improvising guitarist based in Asheville, North Carolina. While attending high school in Bhutan he saw the movie, "The Thing Called Love," set in Nashville at the Bluebird Cafe. Years later, he came to Nashville and tried to go to the Bluebird Cafe, where songwriters go to get discovered, only to find it was closed that day. Tashi Dorji's guitar improvisations are spontaneous responses to a wide range of music he's absorbed from around the world, but transformed into a personal style that avoids referentiality and folk-underpinnings. You won't likely hear overt traces of Bhutanese folk melodies, but you may hear a six-stringed mockingbird fly nimbly with fingers stretched wide as Derek Bailey or Lenny Breau.

Tate Eskew has more than 20 years experience as a sound engineer, musician, and software engineer. He uses this experience and his fervent interests in ecology, regenerative design, and reconnecting with his own Cherokee ancestry to create a linkage between technology and nature through music. His process employs code-writing to create his own unique guitar sounds; using the studio as an instrument to create timbrally rich sonic building blocks; and finally playing the guitar to combine these units into delicate, occasional textures, which change with every performance.
Tickets are $10 in advance or $12 at the door. Purchase advance tickets here.
FMRL Presents a Spectrum of Guitar w/ Sir Richard Bishop, Tashi Dorji, and Tate Eskew
Sunday, August 31, 2014, doors at 7 p.m., show at 8 p.m.
@ Emma Bistro, 11 Lea Avenue, Nashville, TN.