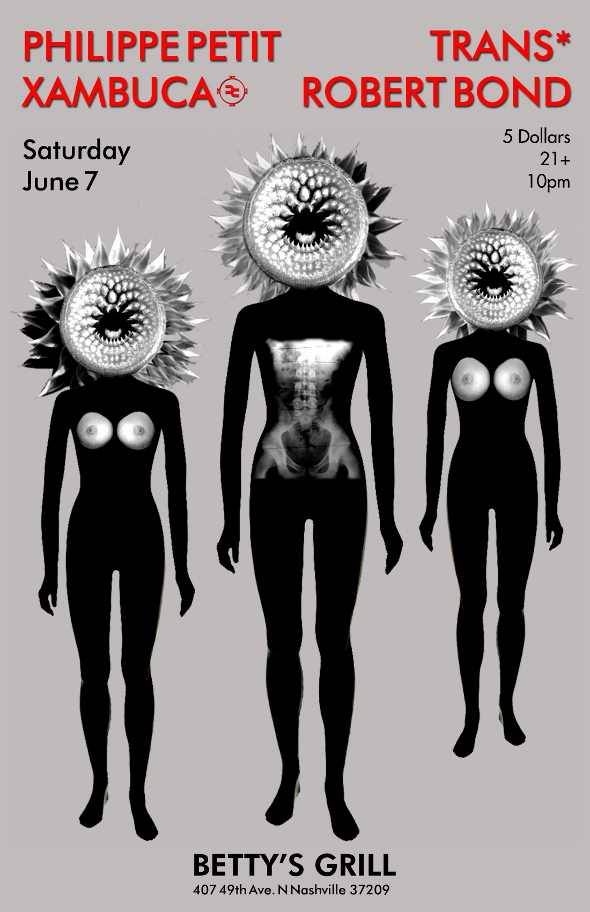 There's a great lineup at Betty's this Saturday, featuring Philippe Petit, XAMBUCA, Robert Bond, and trans*.
French sound artist Phillippe Petit, not to be confused with the high-wire artist of the same name, creates music with bizarre instruments like the Electric Psalterion, Hackbrett Cymbalum, and Yuri Landman's Caterpillar Drum Guitar. He also employs turntables, synthesizers, and unconventional percussive objects. He's worked with artists such as Lydia Lunch, Cosey Fanni Tutti (Throbbing Gristle), and Murcof.
Asheville's XAMBUCA is Chandra Shukla's sound art project. Chandra has worked with artists such as Genesis P-Orridge and Hans-Joachim Roedelius (Cluster).
Robert Bond is a Nashville percussionist, electronic artist, producer and composer. He was featured on Theatre Intangible episode 105. For this show, he'll be performing a very special solo set.
trans* is a Murfreesboro sound artist utilizing minimalist, vocal-heavy harsh noise.
Phillipe Petit will not likely pass through Nashville again for a very long time, so don't miss your chance to see some of the best sound artists around!
More info on the Facebook event page.
Philippe Petit, XAMBUCA, Robert Bond, trans*
Saturday, June 7th, 2014, doors at 9:30 p.m., music at 10 p.m., $5
@ Betty's Grill
407 49th Ave N
Nashville, Tennessee 37209