Tonig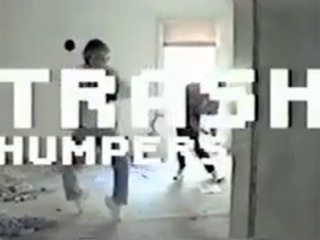 ht after work, I'll be headed to the Nashville premiere of Harmony Korine's new film Trash Humpers at The Belcourt.  Korine will be doing a Q&A after the film.  You may not be aware that:
A. Gummo is one of my favorite films of all time.
B. Harmony shot a film with Gus Van Sant and Anthony Dod Mantle in my hometown of Mayfield, Kentucky, circa 1999.
C. I got to meet him at said time.
D. He asked me if I could score him "anything illegal."
Good times.  Think I should try to get him on an improv?
After the film, Square People Jazz Maturity (The Square People supergroup made entirely with Theatre Intangible participants: Chris Murray, Charlie Rauh, Craig Schenker, and Tommy Stangroom) and friends will be throwing at Trash Humpers afterparty at Little Hamilton.  Here's the lineup:
@ lil hamilton around 9:30pm $5
Reid and Wright
Deluxin'
CCR Headcleaner (San Francisco)
SQR PPL JAZZ MATURITY
Terrorish
Tomorrow evening, T.I. participants Charlie Rauh, Ezzy Harrold, Human Snowglobe JJ Jones, and (stop the press) yours truly Tony Youngblood will be performing an outdoor show outside the Scarritt Bennett Center's art space Gallery F.  I'll be doing a dj set, sampling the other players and the audience's recollections about the theme "Writing Home," which may or may not become an T.I. improv podcast.   The performances are actually an extension of an outdoor installation featuring thousands of written responses to the prompt, "Write a letter home."  Learn more at Gallery F's page.
May 29 @ Gallery F 6pm
Excerpt from Gallery F's press release:
The community is invited to add their letters home to the installation. The installation is being coordinated by gallery F.'s artists-in-residence: Sara Estes, Patricia Earnhardt, Brandon Donahue, Channing Bailey, Matt Christy, Sabine Schlunk, Ryan Hogan and Jared Freihoefer.

Dance and musical performances will take place within the installation. Megan Harrold and Charlie Rauh will perform a dance piece to live music, and various artists – including Maya Moore, Mike Hiegemann, Tony Youngblood, J.J. Jones, and Jared Freihoefer – will perform musical and dance improvisations.
Tomorrow night, Square People will join 84001 for another great lineup at Bettys Bar & Grill:
May 29 @ Bettys Bar & Grill 10PM FREE
Ttotals
84001
Squarepeople
Cody Gaisser
And then June 3rd, 84001 will be hosting another great lineup at Lil' Hammy:
June 3 @ Little Hamilton 8PM DONATIONS
84001
Hobbledeions (Scott Martin from Hands Off Cuba, Forrest Bride, Cortney Tidwell, etc. solo project)
Ttotals
Pimlo (from Ohio)
Lots to do.  See you at Trash Humpers and the shows!