I'm pleased to welcome a new contributor to Theatre Intangible. Tommy Stangroom plays drums in the genre-defying Nashville band SQUARE PEOPLE and recently started an experimental circuit-bent solo project called POSTTASTE. He has a scary knowledge of music and a spectacular record collection. For his first article (and TI's first music review), Tommy reviews the new album from BOOGIE MONSTER. Here's Tommy: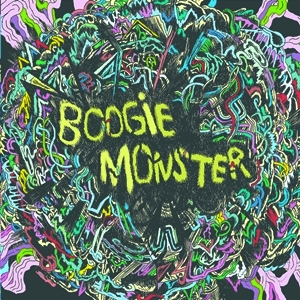 BOOGIE MONSTER is a two-piece band out of Vancouver, and they are noisy as hell and danceable too. Their new record "Zechimechi" is out now from Needs More R.A.M. When one thinks of noisy danceable two-piece bands one inevitably thinks of LIGHTNING BOLT, and I doubt these guys would deny heavy influence from the Brians of the Bolt. Being a wholly instrumental album, it doesn't lack lyricism in both the drums and guitar, bombastic kick drum and floor tom tribal rhythms out in the forefront as much as the crunchy squealing guitar riffs.
The record starts out with tons of weird energy, "Majora" (SUN CITY GIRLS reference?  I don't know maybe I just listen to SUN CITY GIRLS too much) starts with guitars and synths playing circus music and turns into a triumphant anthem that weirdos would eat up for days. Then it just goes right ahead and tumbles over itself right into yet another wild anthem that I could totally see a room of crusty kids throwing themselves into each other for because they just can't help it. The album doesn't let up either. It continues to pummel with "Bullfrog" and then totally melts and freaks out with the wonderfully titled "Transmissions Burst Through Sticky Lungs." Even at their most free, they don't seem to lose an inherent need for rhythm. This shit is unrelenting. "Kabutops" is like Boris speeding down the sewer on some teenage mutant ninja turtle like hovercraft.
Do yourself a favor and listen to their tracks on the Needs More R.A.M bandcamp page; and if you wanna listen to it over and over and over, give them 5 bucks and download the high quality FLAC copy. BOOGIE MONSTER may be playing a Nashville venue in June, so keep yr ears peeled!