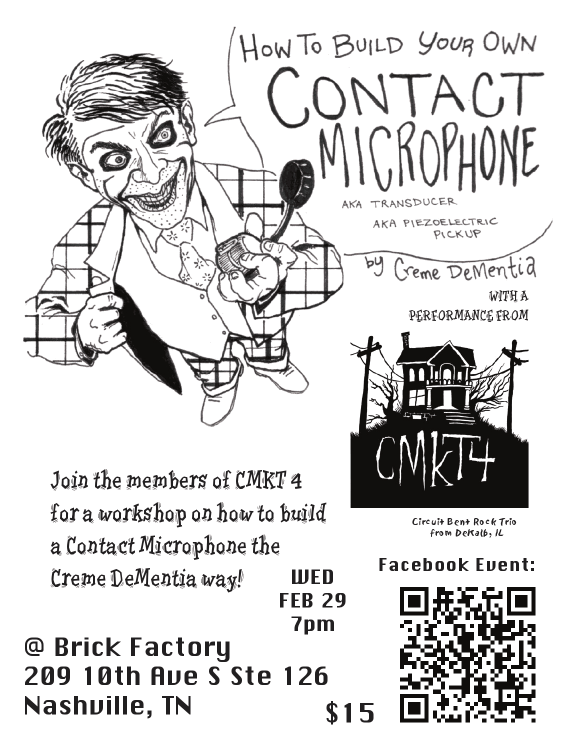 You may remember DeKalb, Illinois circuit-benders CMKT4 from their 2011 performance at Betty's Grill or their legendary 2010 performance at the Circuit Benders' Ball. You might have heard them on this very podcast. Perhaps you've read some of their articles on the preeminent circuit-bending blog GetLoFi.com.
I'm very pleased to announce CMKT4's triumphant return to Nashville. They'll be hosting a workshop on how to build a "bottle cap contact mic" at Brick Factory Nashville. For $15, they'll walk you through building your very own working microphone. After the workshop, they'll perform using some of their wild circuit-bent inventions. It's a steal at twice the price! Seating for the workshop is limited, so order your ticket in advance here.
The workshop starts at 7pm. The performance is around 8:45. The performance is free for workshop attendees. If you just want to see the performance, bring $5.
See the contact mic in action below.
Wednesday, February 29th, 7pm
Brick Factory Nashville (inside Cummins Station)
209 10th Ave S Suite 126
Nashville, TN 37203
Take Elevator B to level 1. Turn right. You're there.
Press release:
CMKT 4 is a circuit bent rock trio from DeKalb, Illinois. They have been actively touring the US since 2010 teaching "Build a Contact Microphone" workshops. They have taught this workshop at over 30 different Hackerspaces across the US, as well as at a number of galleries, arts collectives, and other locations.

It's a fun and easy process that uses a few tools, some components, and some recycled materials to make a handy, durable transducer. Come learn to solder up an audio quality piezoelectric pick-up using the Creme DeMentia "Secret Recipe" and then listen to the band!

Hear some of the crazy circuit bent instruments you've seen on GetLoFi.com used in some groovy garage rock– CMKT 4!