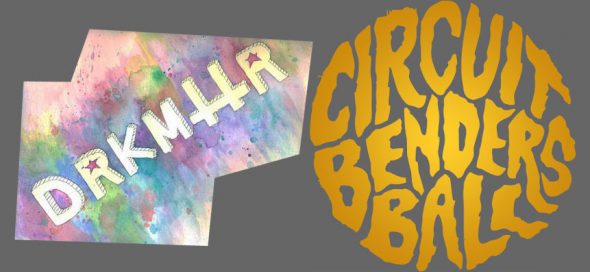 As you probably know, the 2017 Circuit Bender's Ball is happening August 25th through 27th in Nashville, TN. (By the way, we're accepting applications for participants through June 1st.) On Saturday, May 20th at 8pm, Drkmttr will host a "mini" event to help raise funds for the Ball.
The event is called NO MEDIA and the concept is simple. All attendees — yes, including you — bring something to perform with. The NO MEDIA Tumblr explains the rest:
Participating artists are randomly matched in sets of 3 and given 10mins to perform. NO MEDIA aims to bring together artists from a broad range of performable disciplines (poets + dancers + expanded cinemaistas + free jazzers + audio/video noise makers + etc) to challenge the conventions of their practice by responding in realtime to artists from other disciplines.

NO preparation is allowed. Bring your tools, devices, instruments, props, etc., but you've got to start with a blank slate. NO time will be allotted for 'setup'. There will be a 2min turn around time where you can carry your stuff up and meet your collaborators. NO documentation allowed. It happens once and in realtime.
The idea was conceived by Chicago glitch artists Jason Soliday, Nick Briz, and Jeff Kolar. The May 20 event is organized by CBB director Tyler Blankenship.
We will be accepting donations that will go toward CBB, and we'll also have rare posters and merch for sale.
I've participated in a few No Media events in the past. They are enormous fun and a great way to meet new people. Don't miss it!
More info on the Facebook event page.
2017 CBB No Media Fundraiser
Saturday, May 20, 8pm to 11pm
@ Drkmttr, 4003 Indiana Ave, Nashville, Tennessee 37209