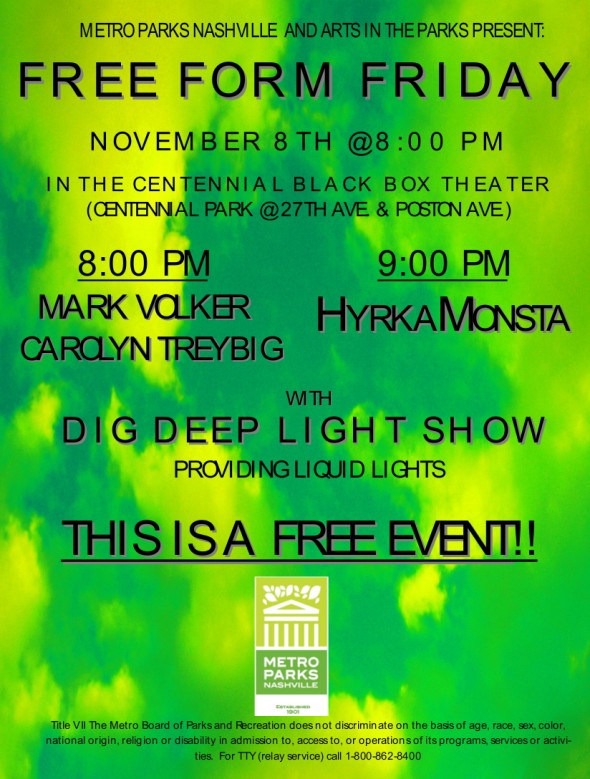 Metro Parks Music and Theater Program Coordinator Mike Teaney has organized another great Free Form Friday, taking place on November 8th at 8 p.m. in the Centennial Black Box Theater. The event is free and open to the public.
Friday's event features Mark Volker & Carolyn Treybig at 8 p.m. and Hyrkamonsta at 9 p.m. Friends of Theatre Intangible Dig Deep Light Show will provide the liquid light visuals.
Mark Volker is the Coordinator of Composition and Assistant Professor of Music at the Belmont University School of Music, where he teaches applied composition and music theory. Mark's music has been performed and recorded by numerous performers around the world, including the Chicago Contemporary Chamber Players, eighth blackbird, the Pacifica String Quartet, Musica moderna Poland, the New York New Music Ensemble and the Nashville Ballet. Mark's music can be heard on his Centaur Records CD, Elemental Forces, as well as on volume 3 of ERMmedia's Masterworks of the New Era series. Mark's acclaimed ballet based on The Diary of Anne Frank is currently being performed by members of the Nashville Ballet in schools around Middle Tennessee. — Belmont Faculty Page

Dr. Carolyn Treybig is an Adjunct Instructor (Flute) in the Belmont University School of Music. She is an Altus Flutes Performing Artist, performing regularly with the Belmont Chamber Winds, and has performed with the Nashville Symphony, the Huntsville Symphony, Duo Brilliante and Belmont Organ Trio. Dr. Treybig has presented clinics and masterclasses at high schools, universities, and the Tennessee Governor's School for the Arts, and has served as an adjudicator for concerto competitions and MTNA performance competitions. — Belmont Faculty Page

Hyrkamonsta: Absolute aural improvisation fueled by the imagination of six Nashville based musicians, an exclusive experience each and every performance. The music is often a progressive fusion of psychedelic Rock greatly subjected to Jazz, R&B, World and Electronica influences. A mixture of twisted digital and analog circuitry, paired with profound insight and decades of collective experience, give rise to the musical beast known as Hyrkamonsta. — Via band website.
Hyrkamonsta features Peter Hyrka, RePete (aka Black Cat Sylvester), Chris Tench, George Bradfute, Dave Colella, and Dustin Michael.
The first Free Form Friday was September 13th, 2013. That event featured Concurrence and Dig Deep Light Show.
More info on the Facebook event page.
Freeform Friday feat.
Mark Volker & Carolyn Treybig, HyrkaMonsta, Dig Deep Light Show
Friday, November 8th, 2013, 8pm, Free show
@ Centennial Black Box Theater
Centennial Park inside Centennial Arts Activity Center
On 27th Ave, right after Springwater Supper Club