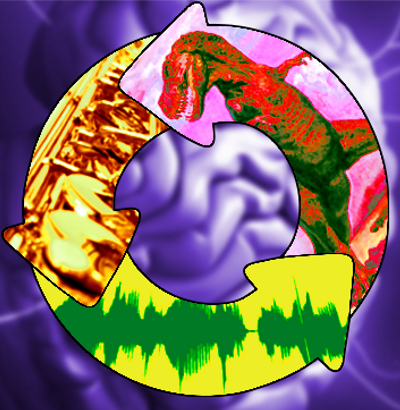 Noa Noa house is back from a long winter break with our first spring show, Saturday, March 30th at 8:30pm.
We're kicking off a new experimental series featuring three innovative acts: Lyrebird (Jeremy Bennett & Craig Schenker), Brady Sharp, and Age (Josh Gumiela & Luke Rainey).
All three artists use live sampling and computer processing to continually evolve an improvisational set, never being completely sure where the ping pong between acoustic instrument and electronic modification will take them.
All have appeared on Theatre Intangible at one point or another. Check out Lyrebird's improv set recorded at Theatre Intangible / Noa Noa headquarterers, Brady Sharp's work in this T.I. "all guitars" episode, and the Josh Gumiela / Luke Rainey improv featured in the video below. Josh and Luke's partnership is especially interesting because they start with a single sample and toss it back and forth throughout the set, further manipulating and transforming it, having no idea where it will lead.
All this is happening in the Noa Noa basement. Park in the front yard and surrounding business lots. More info on the Facebook event page. Stay in touch with all the Noa Noa happenings by "liking" our Noa Noa Facebook page.
re: Process
An evening of improvisation and live sampling/processing featuring…
Lyrebird (Jeremy Bennett & Craig Schenker)
Brady Sharp
Age (Josh Gumiela & Luke Rainey)
Doors at 8:30pm, show at 9pm sharp
Suggested donation $3-$5, split between bands.
BYOB. Park in front yard and surrounding business lots.
We want Noa Noa to be a safe and comfortable environment for everyone. You don't have to know the Noa Noa house owners to attend. If you feel harassed or threatened in any way, let one of the house owners know (Tony Youngblood and Tommy Stangroom) and we will take care of the situation.
Noa Noa (house)
620 Hamilton Avenue
Nashville, TN 37203
_____________________________
Lyrebird
is a new project by electronic artist Jeremy Bennett (SAURuS, Santa's Workshop) and saxophonist Craig Schenker (Square People Jazz Maturity, Arclyte, Cenobium). Jeremy live samples Craig's saxophone playing and intermixes field recordings, electronics and samples while Craig improvises new sounds in response to Jeremy's processing.
_____________________________
Brady Sharp
discovered improvised music in the mid-90s, and has had the fortune of playing with the reputable likes of Peter Kowald, Chris Cutler, LaDonna Smith, Gino Robair, Susan Alcorn, Tatsuya Nakatani and many others. He plays prepared electric guitar using extended techniques with various found objects. This will be the debut of him incorporating PureData live audio processing software into his setup.
_____________________________
Age
is a horizontal sound composition process by Josh Gumiela and Luke Rainey, based in Nashville, TN. They begin each session with the same palette of samples. One player samples the arrangement and adds new flourishes to the mix. The original player samples him, and continues the shaping process. The process remains constant, but the resulting compositions are always very different.