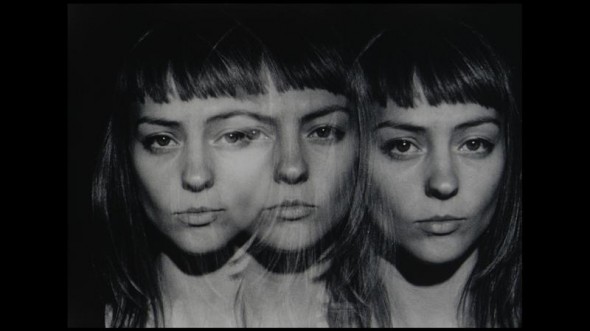 There's a great lineup tonight at The Stone Fox, which for my money has the most consistently-kickass programming of any Nashville venue. Tonight it's Chicago songwriter Angel Olsen, the excellent local ensemble Lylas and the chamber-folk of Honey Locust. Square People / Lyrebird saxophonist Craig Schenker will be sitting in with Lylas. This is his second-to-last Nashville performance before he moves to New York.
I hadn't heard of Angel Olsen until I read Stephen Trageser's Nashville Cream interview with her. After reading it, I immediately bought the digital version of her album Half Way Home, and I've had it on repeat ever since. Her voice is unique, and her songs are beautiful. The interview is one of the best dialogues between an artist and a writer that I've read in a long time, and you really need to go check it out. The impression that I get of Angel after reading it is that she's down to earth, thoughtful, passionate about seeking out new experiences, and willing to reserve judgement on art that doesn't immediately make sense. Her comments on the St. Louis noise scene particularly caught my eye:
I feel like a lot of my friends assume that I just go home and listen to country music all the time. I love going to random, abstract, dense noise shows totally alone, getting that disturbed feeling happening, and then being like "Okay, now I'm affected by something." You do have to pick over a lot of shitty sounds. There are people that make noises that have no feeling, that are just really, really abrasive and annoying. [interrupted by passing train] It's important to not assume that the entire genre is that shitty, abrasive noise. …

I'm from St. Louis, where there was a huge noise scene growing up. [At] this place called Lemp Arts Center, it was all these 15, 16-year-old kids trying to make abstract noise-rock. And it was so artsy; some of it was great, but some of it was so boring, it was like "Man, I could go do something else right now. This is not helpful or effective. This is just some dude, scratching the violin with his fingernails." That's cool for, like, 5 to 20 seconds, but then you're like, "Alright, now I want to hear something. I want to see something build, or at least be blown away by something that doesn't build."

I didn't stay in St. Louis long enough to be affected by the noise-rock scene there. When I moved to Chicago, and I was old enough to go to bars and other kinds of venues, I think it hit me harder, because I was more surrounded by it. It's possible that the music was just better. I didn't give up on it, though. I was determined to figure out what it is people do when they go to these kinds of shows. What is it that they want to hear? Is it something that they're missing? They have a regular 9-to-5 workday, and then they go to a noise show. What is it that they want to feel? It's easier to figure out what people want when they go to a folk show, or a rock show — they're going to hear the same kinds of songs, pretty much, that they've always heard. But when you go to a noise show, it's very improvisational, and because you were there, you're witnessing something new. So maybe even if people have heard [a noise band's] record, they'll hear something that they've never heard before. That's kinda cool! It's one thing that you can witness or experience because you came to the show, not because you bought the record on iTunes, not because a friend played it for you. You went to the show and you were affected by something totally different than the record or your friend describing it to you.
See, I feel like I could be friends with this person. I really get what she's saying about noise music, and I feel exactly the same way. I think people may just assume that I have an uncritical love of all things noise, which just isn't the case. The phrases, "Man, I could go do something else right now," and, " I want to see something build, or at least be blown away by something that doesn't build," are mental dialogues I have during numerous local noise shows. Hell, sometimes even on my own podcast. There's a particular sub-genre of experimental music, often falling under the moniker "noise," which to me can sometimes feel purposelessly aggressive, antagonistic and flat. It's like punk sans guitars, all clique and attitude, devoid of range and dynamics. Affected by its aspiration to be entirely unaffected. I'm not saying music has to have melody or a beat, but it's nice when a piece goes somewhere, like Insect Factory's wonderful recent performance at Noa Noa.
But it's ok if I don't connect with something. Because the whole point is challenging yourself to things you might not immediately understand. I may only make a connection with one artist at a noise fest, but that connection will have been worth the endurance. And some endurances, especially antagonistic, provoking experiences, are still experiences worth having. Often a month later, I'll find myself attaching new meaning to a performance I didn't connect with at the time.
Then there are performances, such as circuit-bending and aleatoric music, that are just as much about the process as the result. The important thing here is approaching experimental shows as if you were an anthropologist, suspending judgement and asking yourself, "What is this artist's goal? What is she passionate about?"
I feel like Angel Olsen gets all of that, and it's very refreshing to hear.
Hope to see you at The Stone Fox tonight! More info on their show calendar.
Angel Olsen, Lylas, Honey Locust
Friday, August 23rd, 9pm, $8
@ The Stone Fox
712 51st Avenue N.
Nashville, TN 37209