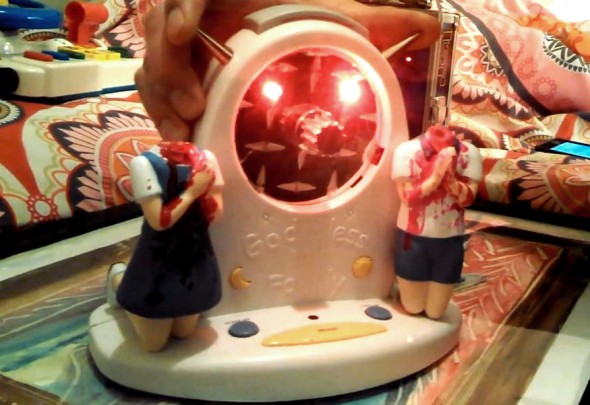 Time is running out to donate to the 2014 Circuit Benders' Ball Kickstarter campaign, which ends Thursday, March 20th at 1:47pm Central time. Lots of great prizes remain, including a tangible item mailing service in which artist Megan Kelley occasionally mails you custom swag for an indefinite amount of time ($100) and TWO toys circuit bent by Tom Stephenson of 2012 CBB headliner Roth Mobot ($150).
Tom bent these toys especially for CBB Kickstarter contributors, and he just posted demos!
First up is this positively evil bent prayer clock, absent a few heads:
And then there's this bent "Baby Driver" toy that makes fantastic noises:
Both are still available at the time of this writing. The first to pledge $150 gets first pick. Head on over to the Kickstarter campaign and help us make this the best Ball yet!