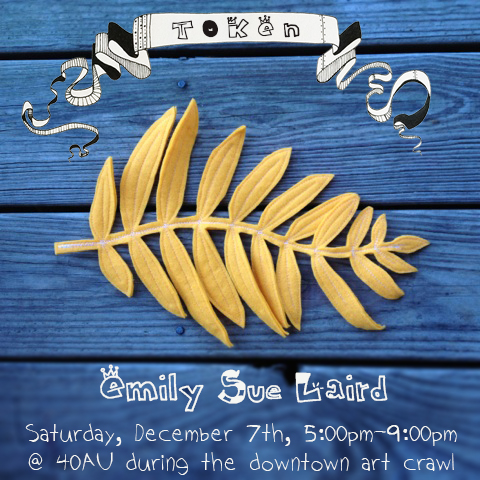 This Saturday's two Nashville art crawls are packed with so many good things. First Saturday Art Crawl at the Arcade features T.I. participant Stephen Molyneux at the Space Gallery premiering his "Cambodian Field Recordings" photography exhibit/sound installation. The Facebook event page says, "The images and sounds were captured on 35mm film and 1/4 inch tape in 2010 while Molyneux was living in Southeast Asia. Expect distant ancient rites of dawn, village sounds recorded from bicycle baskets, ensemble street performances, and wedding party music echoing through the ballroom of an abandoned mansion."
At 40AU in the Arcade is Token: A Solo Exhibition by Emily Sue Laird. The Facebook event page says, "Balancing human-made materials – such as lace, felt, cotton, canvas, and velvet – with the fragile, transitory organic matter of mushrooms, paper, ink, wood, and moss, Emily invites participants to explore domestic elements through play and discovery. Felt leaves become placemats; mushrooms become shelves; fabric becomes forest; home becomes adventure." The exhibition comments on art as a commodity, but I won't spoil the fun with any further details. Just go see it, and you'll soon understand.
Over at Arts & Music @ Wedgewood/Houston's Ground Floor gallery, Erica Ciccarone and I are exhibiting a new installation called #openaccess. (Facebook event page here.) We're constructing a 6 1/2 foot cube covered in white material. Inside the cube (but hidden to the audience) is Erica. She poses in front of a green screen in various costumes and scenarios, yet the audience never sees this. The sides of the cube merely reveal shadowy clues of what's happening inside. What you DO see is projected on the front of the cube … pictures taken inside the cube minutes before … embedded inside social media posts. So the audience never sees what is happening live; they merely see the after effects on a time delay. The projected image shows a desktop full of web browser windows. Facebook, Twitter, Google +, etc. The pages constantly update as the new images come through. While the work will be up all month, the live portion with Erica in the cube only happens Saturday night from 5 to 8 p.m. #openaccess will also features new works from Mandy Brown, Heidi Martin Kuster and Janet Decker Yanez.
There will also be shows at Zeitgeist Gallery, Fort Houston and other Wedgewood/Houston spots. The wonderful art-heavy Porter Flea Market is concurrent at Track 1 just across the train tracks from Chestnut Square. (Details here.)
While not part of the two art crawls proper, but definitely in the spirit of the evening, East Studio on Gallatin Rd is exhibiting "Six Potters and a Painter." The Facebook event page says, "East Nashville's hidden gems – side-by-side clay workshops East Studio and Timothy Weber Pottery – open their doors to the public once a year for this holiday market. Featuring painting and pottery demonstrations and free Penny Drive penny pots to raise money for Second Harvest. Plus fine handmade pots and paintings by Russell Harris, Helen Hooper-Hirst, Kelly Kessler, Diana Naisby, Thurman Rivers, Donna Rizzo and Timothy Weber."
Finish off the night by supporting a good cause and enjoying various interpretations of Tom Waits songs at the Five Spot. It's the 8th Annual Tom Waits Tribute & Benefit for Second Harvest Food Bank.
Click the links for the various addresses and show times.