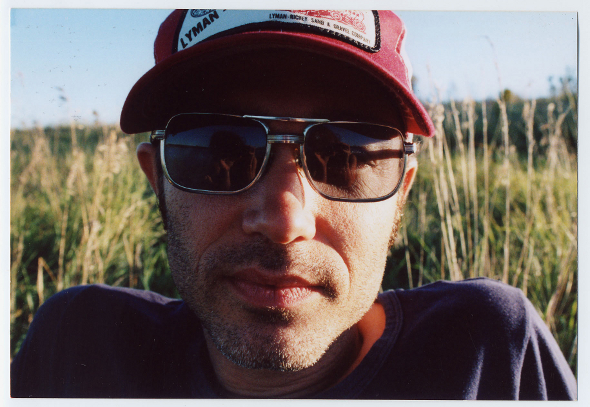 Simon Joyner, one of the best songwriters alive, is playing an intimate house show tonight at Ryan Norris' place. The wonderful Cortney Tidwell and Whisperer will also perform.
The Facebook event page has the details:
Sweetblood Sound presents an evening with Simon Joyner and special guests Cortney Tidwell & Whisperer (Sam T. Smith).
Weather permitting, performances will take place at the Gardens of Sweetblood Sound. Bring blankets, lawn chairs, etc. Park on Wallace and enter through the garden gate to the left of the garage. Please be courteous and respectful to our neighbors.

7pm, $10, BYOB

"Simon Joyner is a singer-songwriter from Omaha, Nebraska. He's been flying under the radar since 1991, releasing music on various independent labels including: Team Love, Jagjaguwar, Sing Eunuchs!, Catsup Plate, One-Hour, Shrimper, Brinkman, Secretly Canadian, and Unread. He is also the co-founder of Grapefruit Records and an occasional producer of other people's albums."

"Courtney Tidwell could have been beamed to the Luminaire from a bohemian folk bar in 1960s Greenwich Village. Her music, meanwhile, suggest a collation of the sounds she heard on her time-traveling journey. Swirling, yet smudgy, pulsing with coruscations, hers is a moonlit sound, intangible and strange. Tidwell's voice is the most remarkable instrument here. When she clambers over scales, extends individual syllables across four-note melodies, or abandons words altogether to revel in sounds There's something strikingly individual about her, a mysterious quality all her own.

"From the darkened corners of the world come the songs of Whisperer (Sam T. Smith). These songs evoke a quiet beauty, each one putting it's heart on the line. Hailing originally from North Carolina, he did much of his growing up in Kansas. Both of these places, these homes, have played a major part in the development of Smith as a songwriter, bringing out that sense of longing and heartache that are so apparent in his lyrics, as well as elements of the natural world."
The show also received a Critic's Pick from Stephen Trageser at the Nashville Scene. See below for a video I recorded of Simon's last Nashville performance at Noa Noa. Don't miss this!
Simon Joyner, Cortney Tidwell, Whisperer
Monday, August 4th, 7 p.m., $10, BYOB
@ the Gardens of Sweetblood Sound (house)
240 Wallace Rd
Nashville, TN 37211