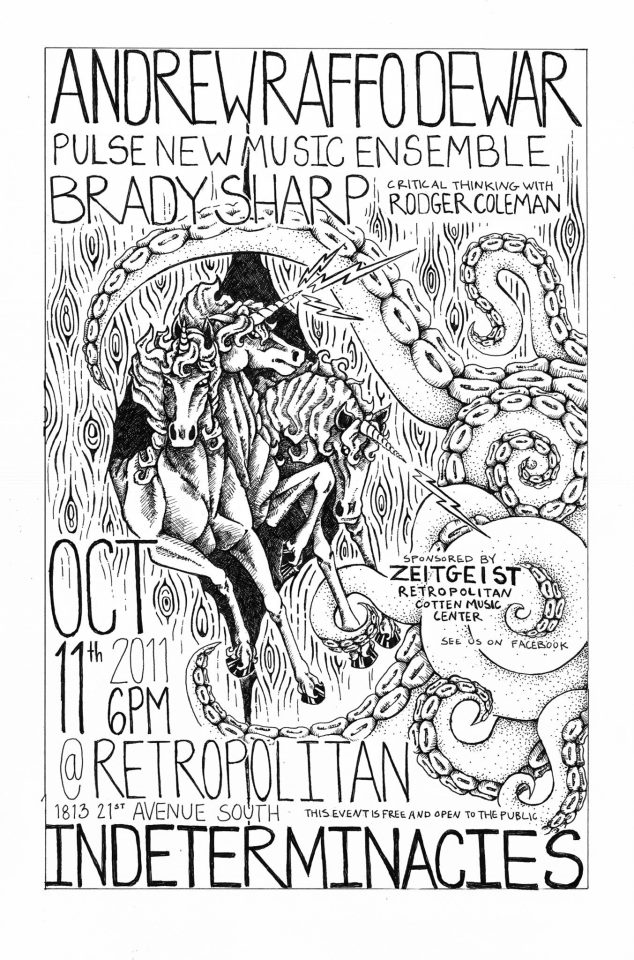 I'll have to make this one quick. I just got back from the phenomenal TIM KAISER show at Gallery F, and I have to get up early for my second day of jury duty. (Am I allowed to say that?)
Assuming I get picked for the jury, I'll be scrambling over to Hillsboro Village directly after to record the next installment of Zeitgeist Indeterminacies. This one is a few steps away from Zeitgeist proper. It's in the Retropolitan hidden courtyard, or as I call it, the Secret Garden.
This Indeterminacies features ANDREW RAFFO DEWAR, an experimental saxophonist who has played with ANTHONY BRAXTON. So yeah, this is kind of a big deal. Watch the video below to see him perform with TI participant TATSUYA NAKATANI.
Here are the details:
Composer and improvisational saxophonist, ANDREW RAFFO DEWAR will be presenting works with the PULSE NEW MUSIC ENSEMBLE and guitarist BRADY SHARP. An audience conversation about the work will be moderated by ROGER COLEMAN of NuVoid.blogspot.com.

Since the weather is so beautiful, we've teamed up with Retropolitan and Cotten Music Center to hold the event outside in their courtyard. Retropolitan is just a few doors down from Zeitgeist in Hillboro Village.
October 11th, 6pm, FREE
Retropolitan (by Zeitgeist and Cotton Music)
1813 21st Avenue South
Nashville, TN