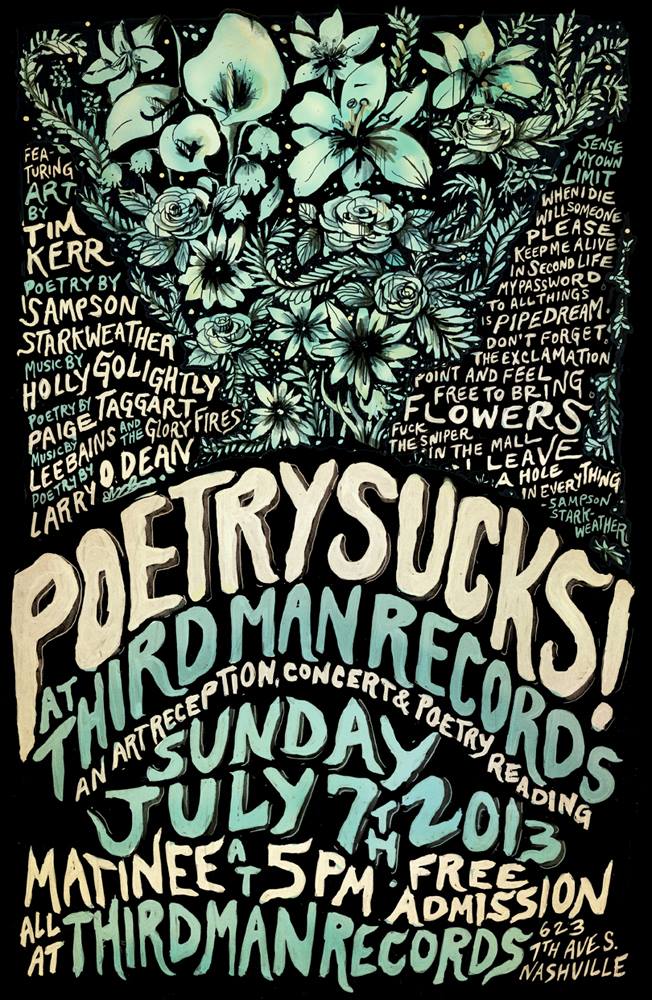 Chet Weise's wonderful poetry-and-music event Poetry Sucks! has moved from Dino's to Third Man Records, and tonight's program looks absolutely delectable. In addition to hearing great poetry and music, you can also view Tim Kerr's artwork on display in the Third Man gallery. Laura Hutson at the Nashville Scene wrote about the gallery show here.
Tim will appear at the event tonight. Also on the program: Sampson Starkweather, Lee Baines and the Glory Fires, Larry O. Dean, Paige Taggart, and Jim Kish.
Tim was scheduled to perform with Holly Golightly and the Brokeoffs, but Holly had to cancel due to inclement weather. Chet Weise informs us that all is not lost:
Tim will be performing instead with Jim Kish as a banjo and fiddle duo. They'll be posting up outside on our patio from 4pm giving hot dog and beer fans a little chewin music… Excited Tim can still play and stoked to have Jim here with him.
The gorgeous poster is by Rachel Briggs, the designer of every Poetry Sucks! poster thus far and the Circuit Benders' Ball poster.
From the press release:
Tim Kerr was a founding member of The Big Boys, Poison 13, Bad Mutha Goose, Lord High Fixers, and Monkey Wrench; all groups who have played an important role in what is known as the US indie scene today. Not only has he been inducted into the Texas Music Hall of Fame, but Tim also earned a degree in painting and photography at the University of Texas in Austin and studied the latter with Garry Winogrand. His artwork has shown in the US and abroad in galleries such as PS1 in New York, 96 Gillespie in London, Slowboy Gallery in Germany, and Hyde Park Art Center in Chicago. Tim may even join in the music making on the 7th! http://www.youtube.com/watch?v=N1NuZvGw_20

Sampson Starkweather was born in Pittsboro, NC. He is the author of the First Four Books of Sampson Starkweather and 5 chapbooks from dangerous small presses. He is a founding editor of Birds, LLC and works for The Center for the Humanities at The Graduate Center, CUNY. http://www.everyday-genius.com/2012/10/sampson-starkweather.html

Paige Taggart lives in Brooklyn and is the author of 3 chapbooks. Trembling Pillow Press will publish her first full-length collection Want For Lion in late 2013/early 2014. She's an avid jeweler (mactaggartjewelry.com) and co-founded the tumblr Poets Touching Trees. http://www.bookslut.com/features/2011_04_017492.php

Larry O. Dean was born and raised in Flint, Michigan. His most recent books include Brief Nudity (Salmon Poetry, 2013), and Basic Cable Couplets (Silkworms Ink, 2012). Also a critically-acclaimed songwriter, Dean has numerous CD releases, including Fun with a Purpose (2009) with The Injured Parties. He was a 2004 recipient of the Gwendolyn Brooks Award. http://salmonpoetry.com/details.php?ID=282&a=233

Lee Bains III and the Glory Fires' debut album There is a Bomb in Gilead was released on Alive Records. Now, LBIII and The Glory Fires re-unite with Tim Kerr to record their next album in Nashville, TN with the legendary Jeremy Ferguson at Battle Tapes Recording Studio. Could there be a bigger bang? http://www.youtube.com/watch?v=wk7NWoZOncE
More info on the Facebook event page
Poetry Sucks!
Sunday, July 7th, 4pm
Free show
Third Man Records
623 7th Ave S
Nashville, Tennessee 37203