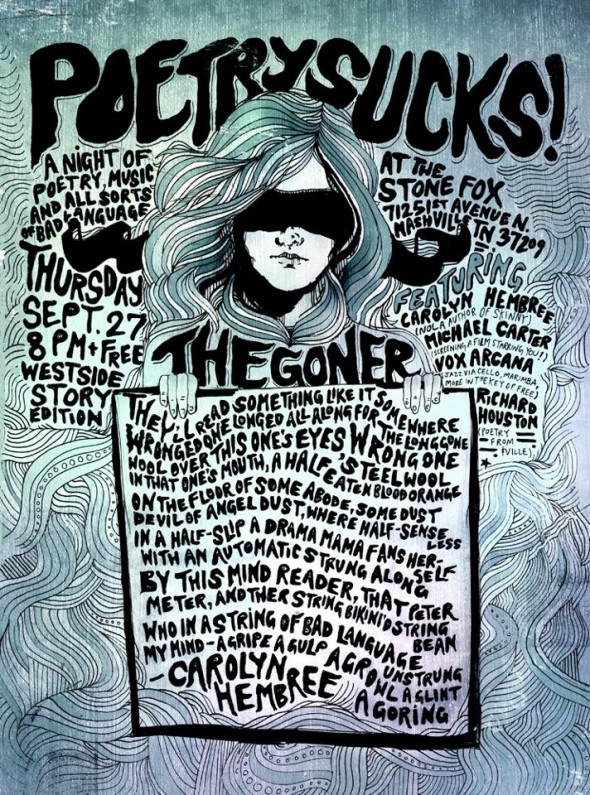 Poetry Sucks! is a Nashville poetry reading series organized by Chet Weise. Chet pairs a group of poets with musicians and filmmakers for an always-engaging evening.
Thursday, September 27th, Poetry Sucks! is temporarily relocating from east side's Dino's Bar & Grill to west side's The Stone Fox, the brand spankin' new venue run by siblings Elise and William Tyler. Yes, that William Tyler.
Theatre Intangible readers may be particularly excited about this installment's musical guest: Vox Arcana, a new musical trio from Chicago featuring percussionist Tim Daisy, clarinet player James Falzone, and cellist/electronicist Fred Lonberg-Holm.
Tim is a seriously bad-ass improvised music percussionist who has worked with the likes of Ken Vandermark, Joe McPhee, Fred Anderson, John Tchicai, Dave Rempis, Steve Swell, and Jeb Bishop. It's a can't miss show!
On top of that, you get all this:
Poetry: Carolyn Hembree's poems have appeared in Colorado Review, DIAGRAM, Gulf Coast, Indiana Review, jubilat, and Witness, among other journals and anthologies. Kore Press published her debut collection, Skinny, in 2012. Her poetry has received three Pushcart Prize nominations, a PEN Writers Grant, a Southern Arts Federation Grant, and a Louisiana Division of the Arts Fellowship Award in Literature. Before completing her MFA, she found employment as a cashier, housecleaner, cosmetics consultant, telecommunicator, actor, receptionist, paralegal, coder, and freelance writer. Carolyn grew up in Tennessee and Alabama. She teaches at the University of New Orleans. http://www.carolynhembree.com/

Poetry: Richard Houston is a Na$hville author. If you missed him read at Pujol Sucks! Part II Eclectic Boogaloo, here's your chance to make amends.

Film: Michael Carter is a Nashville based director and editor whose work includes films that have premiered at Cannes, Sundance, HotDocs, Sarasota and South by Southwest film festivals. His feature-length directorial debut, "3 Minutes From Opryland," documented Middle Tennessee's amateur wrestling subculture, providing an exciting meditation on this sub-cultural phenomenon. He then followed with "A Difficult Days Afternoon," which documented cult-musician Dave Cloud during his 2006 European tour, and premiered at the 2008 Bergen Fest. In addition to directing, Carter is an accomplished editor, with credits including Nomadic Independence's "When the Worlds On Fire," "A Rubberband is an Unlikely Instrument" and "The Colonel's Bride." Currently, Michael Carter is in production with his narrative directorial debut, "Million Dollar Bash."
http://nomadicindependence.com/
More info on the Facebook event page.
The above poster (and all Poetry Sucks! posters) was designed by Rachel Briggs, the insanely-talented artist who has designed art for Caitlin Rose, Old Crow Medicine Show, and American Songwriter Magazine. She also designed the 2012 Circuit Benders' Ball poster. Check out more of her work on her artist page.
Poetry Sucks! A night of poetry, music, and all sorts of bad language (West Side Story)
Thursday,  September 27 * 8PM, free admission
The Stone Fox
712 51st Avenue N.
Nashville, TN 37209