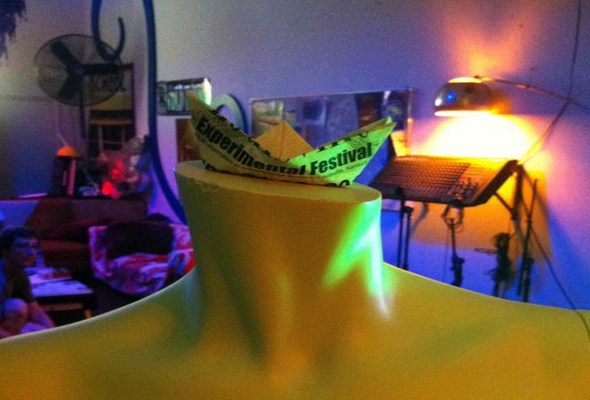 The 2013 Louisville Experimental Festival just announced its full lineup. Taking place in various bars and clubs around Louisville from June 23rd through 26th, the fest is a great excuse for a Louisville road trip. While you're in town, check out the wonderful Muhammad Ali Center, the Louisville Zoo, the Louisville Slugger Museum, and the Louisville Mega Cavern Underground Zip Line.
Headlining this year is Greg Ginn and The Royal We! Yes, that Greg Ginn. Other highlights include Tim Kaiser, Mike Shiflet, Darin Gray, and Keir Neuringer (video below).
Here's the full lineup. Sadly, no Nashville bands this year.
______________________________________________
Wednesday, June 26th @ Lisa's Oak St. Lounge (1004 E Oak St.):
(Doors at 7:30pm, Show at 8:30pm)
Dissappearo, Ashochious, NO copper, Bill Zink / Steve Good, Sir Salé and the Satyatar
Thursday, June 27th @ Haymarket Whiskey Bar (331 E Market St.):
(Doors at 7:30pm, Show at 8pm)
Klimchak, Hinge, R Keenan Lawler, Joee Conroy / Dane Waters, Tim Kaiser, National Hotel Sound System, Camera Lucida
Friday, June 28th @ St. Philip Neri Church (236 Woodbine St.):
(Doors at 7:30pm, Show at 8pm)
Anwar Sadat, Humongous, Hyrrokkin, Tropical Trash
Saturday, June 29th @ Dreamland Film Center (810 E Market St.):
(Doors at 7:30pm, Show at 8:30pm)
Jonathan Wood / Lowe Sutherland, Mike Shiflet, Darin Gray / Raw Thug, Aaron Dilloway
Sunday, June 30th @ The Bard's Town (1801 Bardstown Rd.):
(Doors at 8:30pm, Show at 9pm)
The Untalented Visionaries (Norman Minogue / Douglas Lucas), Sick City Four, The Magnetic Bananimals, Keir Neuringer, Greg Ginn and The Royal We
All shows: $5
Sponsored by Astro Black Records, Doo Wop Shop, Music Go Round, Sophomore Lounge, Heine Brothers' Coffee
Presented by NONE Productions.
In related news, Louisville Experimental Festival founder Douglas Lucas just started broadcasting two radio programs  rotating every Sunday at 7pm on ART+FM.
The programs are:
1. "Indeterminate Transmissions" – which will consist of live on-air sound and radio art improvisations/experimentations.
2. "The Medium Is Sound" – which will present recordings by local, national, and international experimental musicians, sound artists, and noise makers.
You can tune in online at http://www.artxfm.com/listen/, and/or by downloading the ART+FM app for free in the App Store.