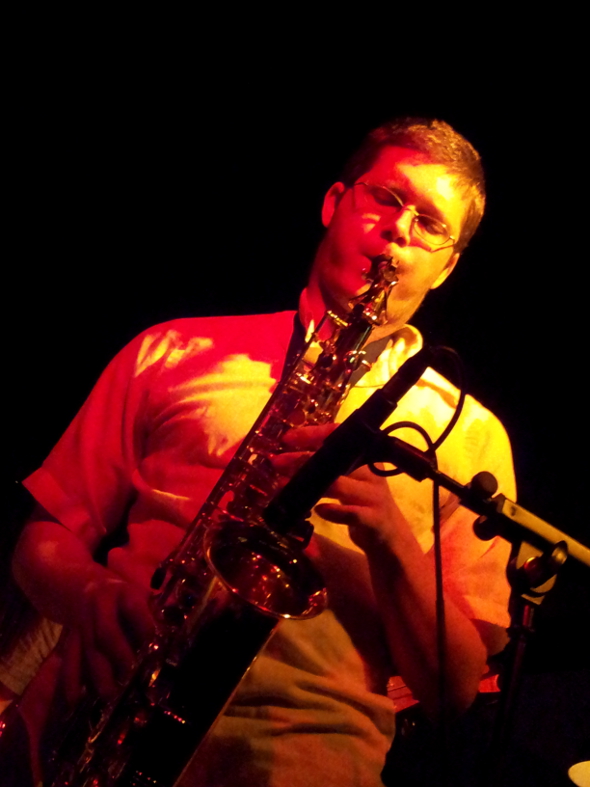 There are two great events happening in the Wedgewood-Houston neighborhood tonight, and as the scheduling gods have ordained, you should be able to catch (at least most of) both.
The first happens from 7pm to 9:30pm at the Notable Blends coffeehouse inside Houston Station. Tony Gerber and Bryan Burnett's space music project Auroric Dreams will perform to the live OpenGL visuals of artist Josh Gumiela.
From the Facebook event page:
Back together for a second live concert for the Nashville audience, Auroric Dreams will be performing live space music during the astronomical event, Neptune's Opposition 2013 at the enchanting and intimate venue of Noteable Blends. Join us for a cosmic evening of music from Tony Gerber and Bryan Burnett and original motion graphic projections by video and sound installation artist, Josh Gumiela.
At Noa Noa house from 8:30pm to 12am, saxophonist Craig Schenker will perform his final Nashville show before moving to New York. Craig is one of the hardest working musicians in Nashville, having played with Square People, Lyrebird, Four Sided Circle, Arclyte, Afton Wolfe, Lylas, Cenobium, and more.  He's been on a whopping 17 Theatre Intangible episodes, and that doesn't include several that are waiting to be published, including a Lyrebird artist showcase.
At his farewell show, Craig will conduct extemporaneous assemblies of past collaborators. The Facebook event page says Craig will,
curate the evening alternating pre-determined group/acts with spontaneous improvisational duos and trios chosen the night of the show.
Confirmed performers include:
If you know Craig or are a fan of his music, don't miss this intimate final show. While there is a bit of an overlap between the two Wedgewood-Houston events, I'm guessing you'll miss no more than 30 minutes of the latter if you decide to attend the former.
Auroric Dreams w/ visuals by Josh Gumiela
Sunday, August 25th, 7pm-9:30pm, $10
@ Notable Blends (inside Houston Station)
434 Houston Street
Nashville, Tennessee 3720
Craig Schenker's Last Nashville Hurrah
Sunday, August 25th, 8:30pm-12am, free
@Noa Noa (house)
620 Hamilton Avenue
Nashville, TN 37203