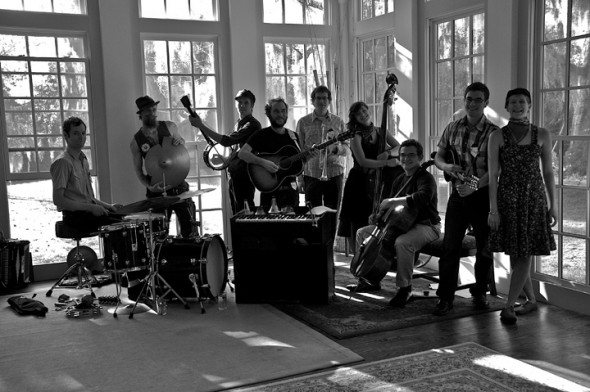 A few years ago, I sat uncomfortable and fidgety in Austin Alexander and Alcamy Henrickson's basement, waiting for the multi-sibling psyche-folk collective Spirits of the Red City to perform. (Uncomfortable and fidgety is my natural state of being.) Stone Jack Jones and Kyle Hamlett had just finished amazing acoustic sets. Spirits of the Red City took the stage (or rather, the corner) and proceeded to mesmerize the packed basement crowd with their unamplified set.
Some bands have it. Some don't. This one has it in spades.
If you missed that fabled show (and you probably did – it was a small basement), Spirits of the Red City are returning Friday April 30th at Brick Factory Nashville with Kyle Hamlett and Stone Jack Jones again opening.
Go. Trust me. Go.
More info on the Facebook event page.
Check them out below. The singer is a dead ringer for Joaquin Phoenix.
Friday, April 30th, 9pm, $5, all ages
Brick Factory @ Cummins Station
209 10th Ave South
Nashville, TN
37203
Enter Cummins Station at street level.  Walk to center of  building. Take elevator B to level 1. Turn right. You're there.