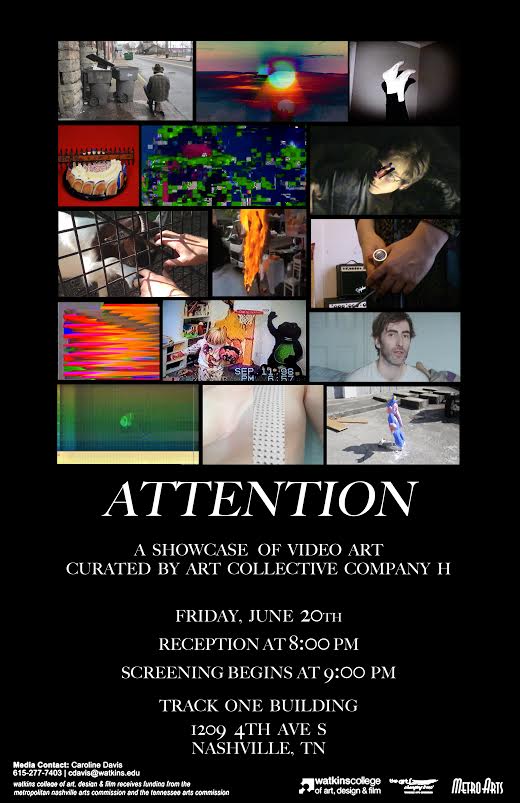 Along with Light & Sound Machine at Third Man Records, the Track 1 building in Wedgewood/Houston is becoming one of the best places to see underground and experimental video art. Case in point: this video art show Friday, June 20th at 8:oo p.m.
Details from the press release:
WHAT: "ATTENTION"

In an effort to combat culturally induced impatience and shortened attention spans, student art collective Co. H presents ATTENTION, a juried, hour-long screening of video art. Time-based art (in other words, work that is to be experienced in duration) suffers as a result of this condition. As such, the work here is presented in succession, as a screening, rather than installed in space to be addressed in passing. ATTENTION features 15 videos from both students and professors working regionally in Nashville and Chattanooga, as well as from artists based nationally in Pennsylvania and New York.

ARTISTS:
Benjamin Anderson
Sharyn Bachleda
Keren Beddoe
Kellie Bornhoft
Bradley Braunschweig
Ann Catherine Carter & Tyler Blankenship
Elisha Farahmand
Holden Head
Morgan Higby-Flowers
Ron Lambert
Casey Payne
Angel Renta
William Stewart
Hannah Taylor
Chelsea Velaga
They really hit the nail on the head about the difficulties showing time-based art. "Bring Your Own Beamers" and such are great for creating a massive sensory assault, but they're not great for highlighting each artist's individual piece. On Friday at Track 1, you'll be able to give each piece your attention without distraction.
Most of the names on the list are new to me, but I do notice Kellie Bornhoft and Morgan Higby-Flowers, who participated in the 2014 Circuit Benders' Ball; Ann Catherine Carter, an artist and musician who is taking over for Veronica Kavass as the gallery director at The Packing Plant; and Tyler Blankenship, filmmaker, musician, and chief archivist of the current Nashville art scenes.
More info on the Facebook event page.
"ATTENTION" Video Art Show
Friday, June 20, reception at 8 p.m., screening at 9 p.m.
@ Track One Building
(4th Avenue South and Chestnut)
1211 4th Ave S, Nashville, TN 37210