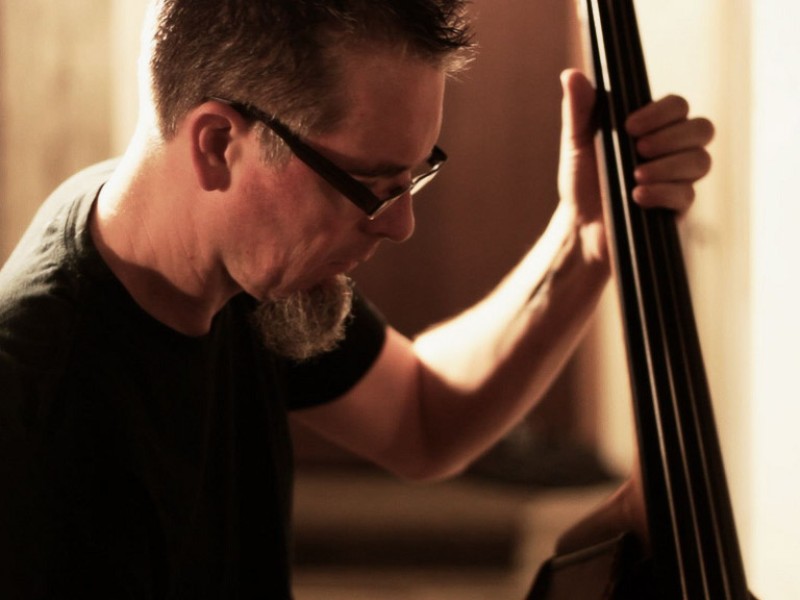 You don't know what you've got 'till it's gone. On February 27th, the space where Gallery F resides at Scarritt Bennett Center will be converted into a student center. There are talks to relocate Gallery F to another area on the Scarritt Bennett campus, but the award-winning art space's future is uncertain.
I've been helping to organize a show for experimental jazz bassist THOMAS HELTON at Gallery F on February 26th for some time. The show was to coincide with the closing reception for the exhibition "23 Years Without War." With the news of the gallery's closing, we've decided to turn the show into one last hurrah for Gallery F.
Director Sabine Schlunk has been a tireless supporter of experimental art in Nashville, and the gallery's absence will be sorely felt. Sabine tells me the powers that be at Scarritt Bennett are thinking of moving the gallery to another area on campus, but the details are still up in the air. One thing is for certain though: This will be the last Gallery F event at the current space.
Come show your support for one of Nashville's most innovative spaces. Be sure and tell Sabine Schlunk what Gallery F means to you. And stay for the kick-ass lineup of performers:
* Thomas Helton
* Theatre Intangible Live
* Craig Schenker TBA improv group
* The Nashville Scene (Mike Hiegemann and Rhendi Greenwell)
* JJ Jones
THOMAS HELTON is a composer and experimental jazz double bassist from Houston, Texas. Inspired by the great improvisers Peter Kowald, Evan Parker, and William Parker, Thomas plays every inch of his double bass — bowing, plucking, beating, and scratching out otherworldly timbres. He performs around the world and with jazz greats such as Tim Hagens, Milt Jackson, Monty Alexander, Mark Elf and Ernie Watts. Thomas plays like a man possessed, lost in communication with some invisible entity, blind to everything but his instrument and the music. Thomas appeared on one of my favorite T.I. podcasts to date. Check it out: Podcast 9 –  Crow Helton Rauh Schenker.
Thomas will be screening his brand new video "I," a synesthetic collaboration with video artist Jonathan Jindra. See a preview of the video below.
Saxophonist CRAIG SCHENKER will perform an improv based on the exhibition's theme of war featuring a to-be-announced roster of local talent.
Thomas will join Craig and others for a THEATRE INTANGIBLE live improvisation based on the exhibition's theme of war.
"THE NASHVILLE SCENE" aka RHENDI GREENWELL and MIKE HIEGEMANN (not to be confused with the local weekly paper) will reprise their celebrated Nashville City Limits audio-visual performance. JJ JONES (The Human Snowglobe) will close the night with cappella songs. All have appeared on Theatre Intangible at one time or another.
$5 suggested donation to the touring performer. More details on the Facebook event page.
February 26th, 5:30 – 10:00pm
Gallery F @ Scarritt Bennett
1000 19th Ave S
Nashville, TN 37212