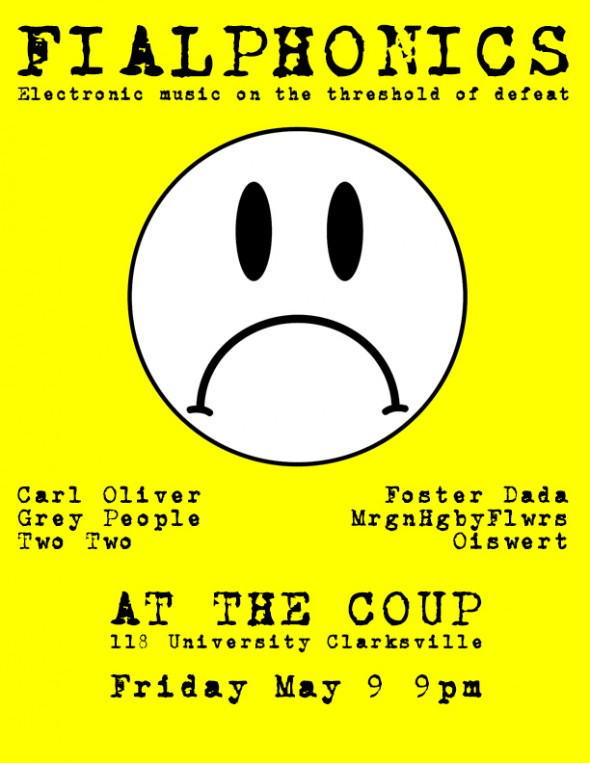 Josh Gumiela tipped me off to this amazing FREE electronic show at The Coup in Clarksville on Friday, May 9th. The show is kind of a dark wizards' social of Nashville experimental electronic composers. If you haven't been to The Coup, it's basically THE place to see experimental music in Clarksville. And the veggie burgers rock.
The show is called FIALPHONICS: Electronic Music on the Threshold of Defeat, and it features six artists, three of which performed at the 2014 Circuit Benders' Ball (Carl Oliver, Morgan Higby-Flowers, and Foster Dada), one of which has appeared at Noa Noa and on Theatre Intangible (Two Two aka Jeremy Bennett), one of which books amazing experimental and electronic nights at the East Room (Grey People aka Alex Michalski) and one Spring Hill artist that's new to me (Oiswert).
Here's the press release:
Josh Gumiela and The Coup present FIALPHONICS, an event showcasing artists using machines that definitely are not error proof.

Witness the relentless cackling of Carl Oliver's irritated modular synthesizer, Grey People's quartz clock fingers skating across vinyl like high heels on ice, and the stumbling sonics of Two Two as he pillages archaic libraries of flammable papyrus ghosts.

Also featuring: Foster Dada, whose mutilated drum machines perform digital intercourse, Mrgn Hgby-Flwrs, who melts the polar caps of your eyeballs faster than you can say 'climate change conspiracy,' and Oiswert, whose olfactory metallurgy fuses electricity with steel in the absence of heat.
This is well worth the 45 mile drive to Clarksville. While there, stroll around downtown Clarksville. It's scenic.
FIALPHONICS
Friday, May 9th, 9 p.m., free show, all ages
@ The Coup
118 University Ave
Clarksville, TN 37040